I want to take a trip across the pond to a place called the U.K. It used to stand for United Kingdom, but now it stands for unhinged knuckleheads versus a group of feeble-minded freaks called Just Stop Oil. After seeing them, you'd wish they'd just stopped breathing. You've seen their protest.
They block traffic during rush hour, which makes them as persuasive as Alec Baldwin teaching gun safety because nothing inspires societal change better than acting like a total ****. But last week, when they pulled a traffic stunt, this happened.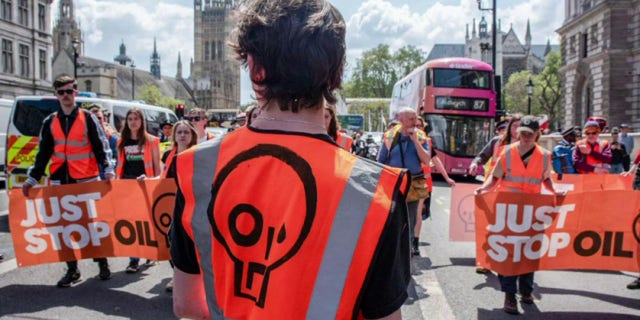 It's amazing. The police cuffed the motorist. Perhaps because he just doesn't have the right politics that would allow him to break the law. If only he were a drag queen racing to the library to read to orphans. But we see this more and more. Here's the hierarchy — the protesters who have all the time in the world yet nowhere to get to are allowed to break the law and impede your life.
So the problem's obvious: We're supposed to calculate the amount of suffering that goes into harming a protester. But you can't do the same for the suffering caused by the protesters — people who missed job interviews or need to go to a doctor's appointment or need to see a specialist about excessive back hair.
VIDEO OF TIKTOKER WALKING INTO STRANGER'S HOME AND SITTING ON THE COUCH
Hmm. Wow. Great prank. Try that in Texas and he'd have more holes in him than a centipede's bowling ball. He also harasses women, telling them they're going to die.
VIDEO OF TIKTOKER TELLING WOMAN "YOU ARE GOING TO DIE"
But I don't blame him for thinking he's above the law because so many people are — those protesters are. And let's not forget that we saw over 100 days of riots, lootings, assaults, $2 billion in damages, up to 40 people killed, torched precincts and courthouses. But we saw no mass arrests or mass convictions. So many people are above the law, and it's all because we excuse insanity. And now you can do anything because you're fighting oppression even when there is no oppression around.
Like the people blocking traffic, they win because those hard-working people in cars are evil. And if one of those drivers accidentally hits a protester, well, you know who the villain would be. Even if the protester put his own life in danger. And imagine if someone shot that teen when he broke into his house. Who would be the villain then, even if that punk had put his own life in danger?