FIRST ON FOX: Two Midwestern senators from both sides of the aisle are teaming up to crack down on China and foreign countries that are buying up American farmland. The lawmakers have brought forth new legislation that aims to give citizens and Congress a "clearer picture of who owns America's heartland."
On Wednesday, Sens. Tammy Baldwin, D-Wis., and Chuck Grassley, R-Iowa, introduced bipartisan legislation that calls for additional "transparency and oversight" of foreign ownership in America's agricultural industry.
The Farmland Security Act of 2023 aims to "support transparency, collect complete and accurate data on foreign ownership, and better understand the scale and impact of foreign ownership." The legislation will ensure all foreign investors who purchase American agricultural land will report their holdings, including "shell companies." The legislation will thus strengthen penalties for those who evade filing.
"Our agricultural economy is the beating heart of Wisconsin's rural communities. But when foreign investors own farmland and agricultural processing capacity, it can put our national security, domestic food supply, and local communities at risk," Baldwin said in a statement.
REPUBLICANS ACCELERATE INVESTIGATION INTO FOREIGN INFLUENCE OF US CLIMATE GROUPS, ENVIRONMENTAL POLICY
"The world's best farmland is located in America," Grassley said a statement. "Our foreign competitors recognize this and continue to invest in American agricultural land, increasing competition for young and beginning farmers and threatening our national security."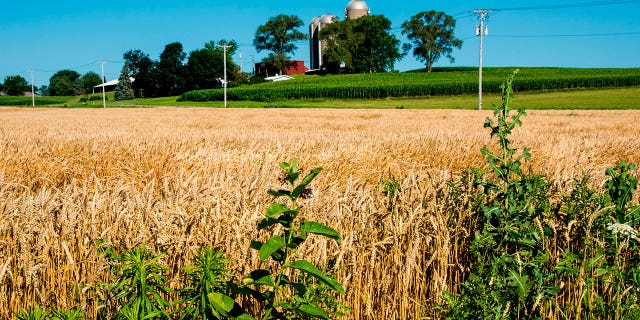 This view shows farmland near Janesville, Wisconsin. (Education Images / Universal Images Group via Getty Images / File)
"Our bill gives Congress and the American people the resources to closely monitor these foreign sales in order to assess the risks they pose," he added.
The Farmland Security Act of 2023 is supported by Wisconsin Farm Bureau Federation and Wisconsin Farmers Union. Julie Keown-Bomar, executive director of the Wisconsin Farmers Union, called the bill a "step in the right direction," saying, "Knowing who is purchasing farmland is a form of national security."
Fox News Digital's Haley Chi-Sing contributed to this report.