A Virginia school district riddled with allegations of sexual assault cover-ups and age-inappropriate material available for students is at the epicenter of another controversy, this time for allegedly barring one of its teachers from using the popular Bible verse John 3:16 in her email signature.
A letter from Liberty Counsel, a religious liberty legal nonprofit, to the Loudoun County Public School District notes that the restriction occurred despite a policy allowing faculty to use "personally selected pronouns, quotations, pictures or phrases that are intended to express [their] personal views."
Roger Gannam, assistant VP of Legal Affairs at Liberty Counsel criticized the move as "religious discrimination."
BOARD MEMBERS SUED FOR RELIGIOUS DISCRIMINATION AFTER BARRING STUDENT TEACHERS FROM CHRISTIAN UNIVERSITY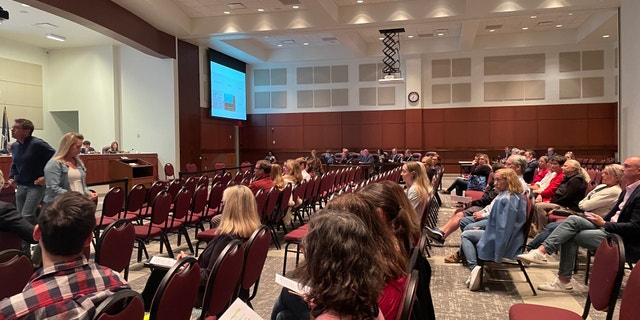 Parents and educators spoke out in support or against a transgender student policy at a school board meeting in Loudoun County, Virginia. (Fox News Digital)
"What they've said is that teachers can write whatever they want in their signature box as long as it's not religious. And that's the definition of religious discrimination under the Constitution," he said Wednesday while joining Fox News' Ashley Strohmier and Todd Piro to discuss the issue.
Strohmier pointed out that no legal case currently exists against the school district, but Gannam said Liberty Counsel is intent on bringing the wrongdoing to the district's attention.
"We won a case in 2022 on this very subject where the city of Boston would literally let anyone raise the flag on its city hall flagpoles except for a religious flag, and the Supreme Court said in a 9-0 decision that you can't do that. So here the school board obviously can have a policy about what teachers include in their email signature box, but, if their policy is to let teachers say anything they want, they can't exclude religious speech," he continued.
CHRISTIAN GROUP LAMBASTES VIRGINIA RESTAURANT FOR 'STUNNING' SERVICE DENIAL: 'RELIGIOUS DISCRIMINATION'
Gannam said the legal team has brought the double standard to the Loudoun County school board's attention, saying what comes next is their decision.
"It's going to be up to them whether they expose themselves to liability or whether they do the right thing."
Loudoun County Schools Superintendent Daniel Smith offered a rebuttal, however, alleging the Bible verse is not private expression when used in such a capacity and arguing its inclusion violates the establishment clause of the First Amendment.
"These communications are not private expression, but rather constitute school sponsored speech bearing the ostensible endorsement of the school division, the general inclusion of religious quotes in communications LCPS employees send while in their public capacities is not private expression and runs afoul of the establishment clause," Smith stated in part.
BOSTON-AREA SCHOOL BOARD APPROVES CHURCH'S PRIVATE SCHOOL AFTER ACCUSATION OF 'RELIGIOUS DISCRIMINATION'
Gannam said the argument is "old, bad law" and he maintains that his firm is on the right side of the discussion.
"It's something that we call the Lemon test," he explained. "The idea is that if a public employee says something while on the job, that automatically the employer endorses that speech. The Supreme Court rejected that," he argued.
The teacher at the center of the case will have to evaluate her next steps, including whether to file a lawsuit against the district for its actions.
CLICK HERE TO GET THE FOX NEWS APP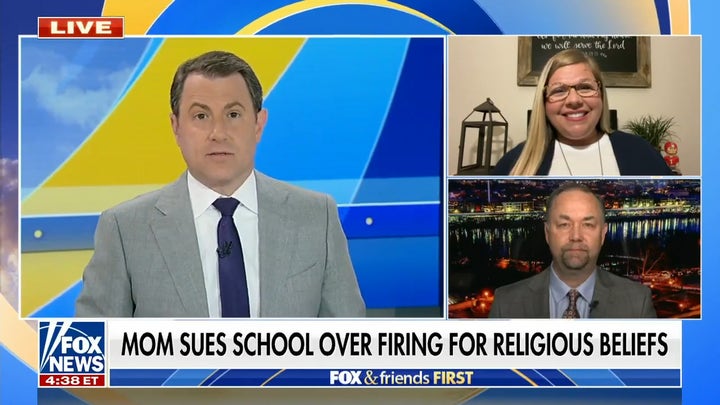 Video