An official in a Massachusetts district attorney's office who is a disciple of Louis Farrakhan was placed on leave Friday after Fox News revealed he said his minister and mentor wouldn't be friends with "a Jewish guy that's got short arms and deep pockets."
True-See Allah, the director of community engagement/strategic partnerships at the Suffolk County District Attorney's office which represents Boston, has shown in social media posts and various interviews that he's a fan of Farrakhan, the well-known antisemitic leader of the Nation of Islam. He posted a photo of the two of them on Facebook in 2020, for example, with a caption calling Farrakhan the "Undisputed Champion for all of humanity."
Suffolk County DA's office, which covers Boston, said Allah was placed on paid leave after Fox News asked for comment on his antisemitic remarks.
"In keeping with our policy of intolerance for racism, bigotry, bias or prejudice against any segment of our population, we have initiated a review of information provided to us regarding alleged statements made seven years ago by True-See Allah," Chief Of Communications James Borghesani said. "Mr. Allah has been placed on administrative leave while the review takes place."
"So I did a couple of temp jobs and then Minister Don had a, I want to say, a colleague, um, an acquaintance," he said. "I ain't gonna call him a friend 'cause he's a Jewish guy that's got short arms and deep pockets, but he was basically in charge of bringing Reebok to the Washington Park Plaza."
The comments seem to play into an antisemitic trope suggesting the man was both wealthy and stingy with his money.
In the same interview, Allah expressed his admiration of Farrakhan, calling him an "illustrious leader" and "the embodiment of righteous conduct."
In a podcast posted to Facebook on Sept. 11, 2022, three months after beginning his position with the DA's office, Allah detailed a visit from Farrakhan and defended the Nation of Islam leader's reputation.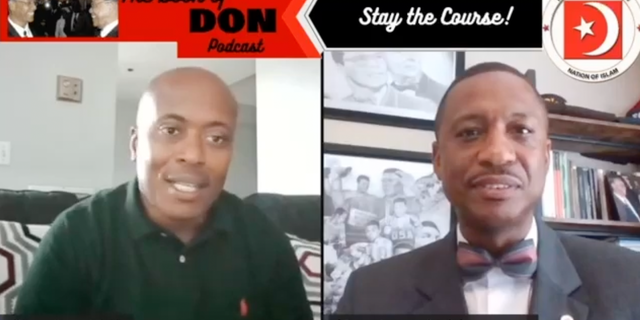 In an interview published Sept. 11, 2022, True-See Allah said police he encountered "gleam in the love that they had for the Honorable Minister Louis Farrakhan." (Facebook)
"I'm getting escorted by the police as we pick up the Honorable Minister Louis Farrakhan from the airport," he said. "The police were so gracious to us, and they were so professional, and you could see the gleam in the love that they had for the Honorable Minister Louis Farrakhan, contrary to all of the reputation that some people were trying to paint incorrectly about him."
A spokesperson for Suffolk County District Attorney Kevin Hayden, Tina Nguyen, told Fox News in a statement that the DA's office denounced antisemitism and other forms of bigotry. The statement, which was provided before the office was shown Allah's remarks about the Jewish man, also said the DA's office met with leaders of the Jewish community in the Boston area to address concerns.
"I'm doing everything I can right now in the city to connect Minister Randy [Muhammed] to the new police commissioner, the new district attorney — which is where I'm working currently — and getting the [Nation of Islam] the love and the respect that we deserve," Allah said.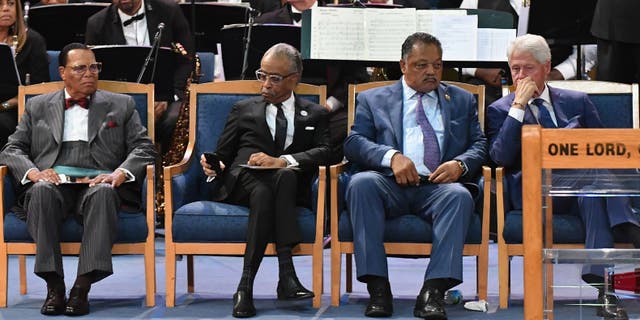 Nation of Islam leader Louis Farrakhan, Rev. Al Sharpton, Rev. Jesse Jackson and former US President Bill Clinton attend Aretha Franklin's funeral at Greater Grace Temple on August 31, 2018 in Detroit, Michigan. (ANGELA WEISS/AFP via Getty Images)
He added that meetings with the previous leader, his mentor Don Muhammed, were "always backdoor."
"Minister Don did so many meetings with so many high-level elected officials, but it was always back door," Allah said. "It was always quiet because of the misperception from the Jewish community and so a lot of that pressure has extended locally to Minister Don."
Allah changed his name from Troy Christopher Watson after serving eight years in prison for a gang shooting. It was there that he was introduced to Don Muhammed and the Nation of Islam through a radio show. The minister, who died in 2017, led Boston's Muhammed Mosque No. 11.
Allah said in the 2016 podcast that in county jail, he began to learn about "the history of the [Black] nation." He said he didn't learn about the topic in school where "everything was white."
"So I begin to fall in love with myself, my true self, and tap into that history of being the builders of the pyramids and all of the great inventions and contributions that we made to civilization," he said, adding that he eventually became the "first officer" to Mosque No. 11.
A press release announcing Allah's position in the DA's office called him "well respected and experienced." Hayden said he's "grateful" to have Allah join the office in a role that includes guiding engagement initiatives and coordinating with staff "to provide services and resources to victims, survivors."
LOUISIANA DEM SENATE CANDIDATE ADMITTED SUPPORTING ANTI-SEMITE LOUIS FARRAKHAN 'FOREVER'
He added that Allah is "beloved in Suffolk County's communities" and that he loves "these communities right back."
His wife later said she forgave Allah "just so that I'm not carrying any grudges or baggage."
Allah did not return Fox News' request for comment.
Ramiro Vargas contributed to the accompanying video.