"Sex, drugs and rock 'n' roll" — often used as a kind of summary of the music industry — is being challenged today as sober positivity and mental health take center stage.
National initiatives such as 1 Million Strong aim to enable the assimilation of sobriety within the music space by supporting one million people in recovery from addiction by the year 2025.
The sober-active community, in partnership with Stand Together Foundation, Stand Together Music and The Phoenix, has worked to unite the music industry, including artists and fans, to create welcoming sober spaces and encourage open conversations about recovery, according to Stand Together.
DRINKING A LITTLE ALCOHOL EVERY DAY WON'T HELP YOU LIVE LONGER, NEW STUDY SAYS
The sisters said the initiative resonated with their own passion for breaking the stigma of substance abuse in the music industry.
"We were really struck by the importance and the sincerity with which they approach advocacy for addiction and for recovery," lead singer Rebecca Lovell said — "especially as musicians who tour within an industry that is disproportionately affected by addiction."
IF YOU'RE DRINKING MORE ALCOHOL, HERE'S WHAT YOU NEED TO KNOW
"And in really speaking openly with folks, you feel so much less alone — and it can actually really, really help."
DRINKING MAY SHRINK THE BRAIN EVEN IN MODERATE AMOUNTS, STUDY SUGGESTS
While alcohol is "prevalent" at most music events, whether it's backstage or among the crowd, Megan Lovell suggested there's a need for sober positivity.
Image 1 of 2
Rebecca Lovell (on left) and Megan Lovell of Larkin Poe enjoy a mocktail with 1 Million Strong supporters. (Luke Sharrett)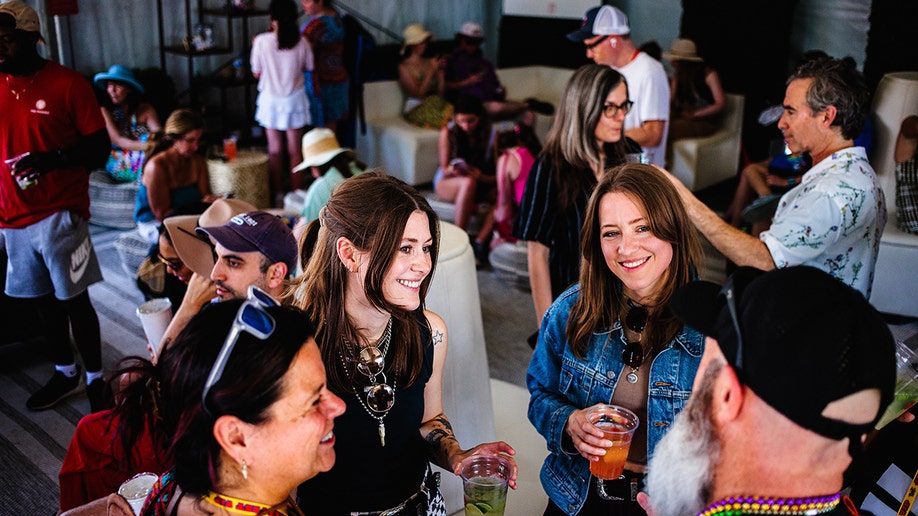 Image 2 of 2

Rebecca Lovell and Megan Lovell stop by the 1 Million Strong Wellness Retreat at New Orlean Jazzfest in May 2023. (Luke Sharrett)
"It's not sustainable to 'party hardy' every night if you're expected to give your fans a great show," she said.
In their 18 years of touring, Larkin Poe has rejected creating a "parody experience of what it means to be a rock 'n' roll touring musician," Rebecca Lovell explained, by prioritizing human experience.
Megan Lovell chimed in, "Having good mental health and healthy relationships can be cool, too."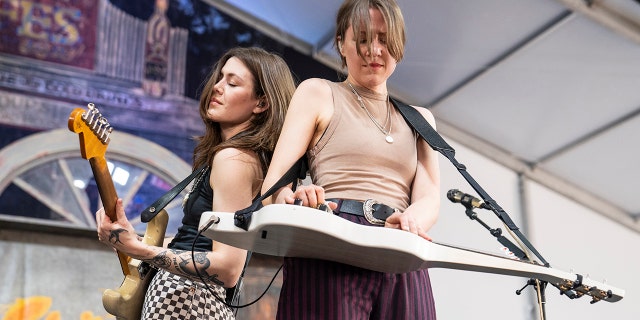 Rebecca Lovell and Megan Lovell of the Grammy-nominated duo Larkin Poe perform during the 2023 New Orleans Jazz and Heritage Festival at Fair Grounds Race Course on May 4, 2023, in New Orleans, Louisiana. (Erika Goldring/Getty Images)
Rebecca Lovell said that embracing a sober-active lifestyle boils down to "living within your own truth" and engaging as an individual.
"We've toured for many years with many different people … at different stages in their own journey with sobriety or being in recovery," she said.
The sisters stopped by the 1 Million Strong tent, which offered a space for allies to hang out and support others, which Rebecca Lovell described as an "incredible installation."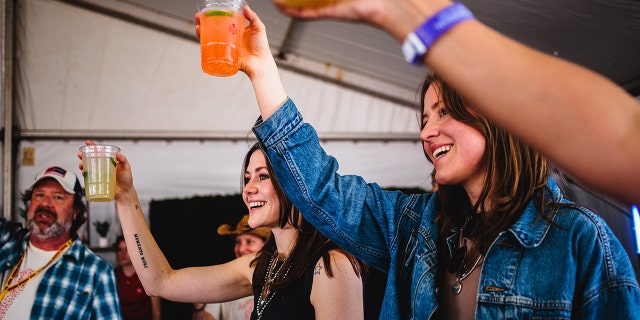 Megan Lovell (right) of Larkin Poe said good mental health and healthy relationships "can be cool, too." (Luke Sharrett)
"People who were seeking a sober environment were able to have a safe space to exist in the greater context of the festival," she said. "And that's, I think, what we're talking about — seeking inclusion for everybody on their many walks of life."
Larkin Poe's relationship with 1 Million Strong has so far allowed them to further promote mental health within their fan base, Megan Lovell said, as they've also written music on the topic in songs like "Mad As A Hatter."
As the Larkin Poe community grows, Rebecca Lovell encouraged fans and those seeking help with addiction to "prioritize mental health" without regard for being judged.
"Being willing to remove judgment from your own experience as a human is really key to being able to live more fully in your life," she said. "And that is absolutely the goal."
CHATGPT SHOWS ONE DANGEROUS FLAW WHEN RESPONDING TO HEALTH CRISIS QUESTIONS, STUDY FINDS
Some 56% of music industry professionals cite problematic substance use, according to a 2020 survey by Tulane University School of Social Work
CLICK HERE TO SIGN UP FOR OUR LIFESTYLE NEWSLETTER
Another 2020 study by Tour Health Research Initiative (THRIV) found that 34% of touring professionals suffered from clinical levels of depression, while 45% reported drinking alcohol regularly.