A climate activist group that deflated tires on an estimated 40 vehicles in New York City last year has struck again in Boston this week.
On Wednesday, the Tyre Extinguishers claimed responsibility for deflating the tires on dozens of luxury SUVs in Boston's affluent Beacon Hill neighborhood. The group said it vandalized 43 vehicles, thereby "directly preventing the outpouring of emission from the vehicles into our atmosphere which further contribute to climate change and air pollution."
"SUVs are a dangerous and unnecessary environmental atrocity, especially in city environments where there are sustainable transport options available to everyone," Tyre Extinguishers said in statement.
The group said it targeted only large, luxury, gas-powered SUVs, leaving alone electric or hybrid vehicles and those with handicap signage. Tyre Extinguisher vandals left behind pamphlets on their victims' SUVs headlined, "ATTENTION – your gas guzzler kills."
CLIMATE ACTIVISTS EXPAND TIRE-SLASHING OPERATION BEYOND NYC. HERE ARE THE CITIES THEY'VE HIT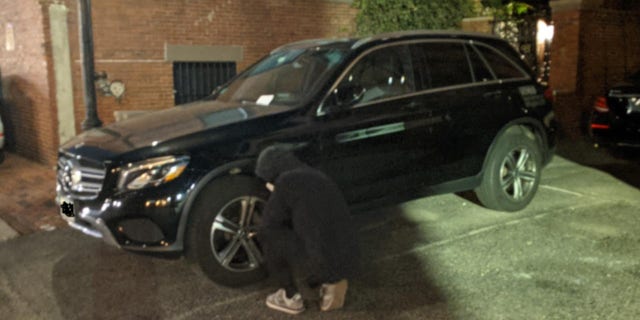 A climate activist group called the "Tyre Extinguishers" claims to have deflated the tires on 43 luxury SUVs in Boston's Beacon Hill neighborhood. (Tyre Extinguishers)
"You'll be angry, but don't take it personally. It's not you, it's your car," the pamphlet reads. "We did this because driving around in urban areas in your massive vehicle has huge consequences for others."
The leaflets implore SUV owners to switch to public transportation, biking or smaller compact electric and hybrid cars. "You will have no difficulty getting around without your gas guzzler, with walking, cycling or public transit," Tyre Extinguishers tell their victims.
City residents who spoke to Boston 25 News begged to differ.
AFRICAN CIMATE EXPERT TELLS BILL GATES AND GEORGE SOROS HIS CONTINENT IS NOT THEIR 'CLIMATE' GUINEA PIG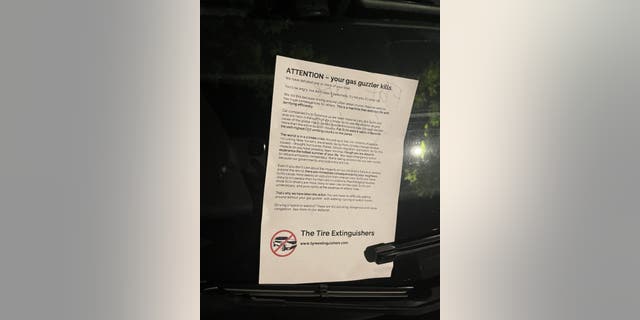 The pamphlet that activists with the group Tyre Extinguishers left on SUVs in New York City last summer. (Tyre Extinguishers)
"You know I'm all for taking action to save the environment but I just don't know that destroying people's personal property or damaging people's personal property is the way to go about doing it," said Lauren, whose parents had their tires deflated.
"My parents didn't need to go anywhere immediately this morning, but I know another person in the neighborhood who's a firefighter and couldn't get to the fire station," she said. "There are plenty of people who work at the hospital and couldn't get to work on time."
Tyre Extinguishers claims to be a decentralized "global activist movement," with members in 15 countries. The group says its members have deflated more than 10,000 SUV tires since March 2022.
SNOOKER TABLE VANDALIZED BY CLIMATE ACTIVIST DURING WORLD CHAMPIONSHIP NOW RECLOTHED, BACK IN PLAY IN ENGLAND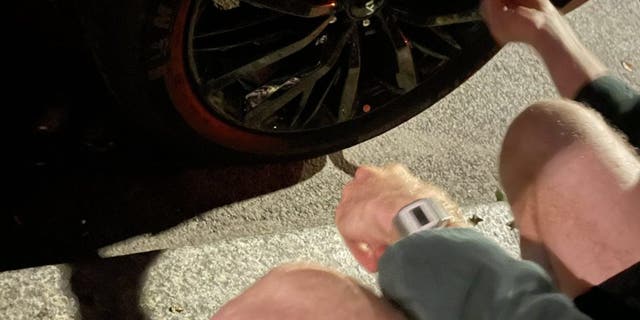 Climate activists with the group Tyre Extinguishers slash tires on SUVs parked in major cities across the globe. (Tyre Extinguishers)
Boston police are investigating the incident. A police report states 19 vehicles were vandalized overnight Wednesday.
One victim claimed they missed a medical appointment on Thursday morning because of the damage done to their vehicle, the report said.
CLICK HERE TO GET THE FOX NEWS APP
Authorities have not identified any suspects.