China and Ukraine are expected to be the main focal points of South Korean President Yoon Suk Yeol's meeting with President Biden at the White House this week.
Yoon, who first entered politics only two years ago to run for president of the Republic of Korea (ROK), and his First Lady Kim Keon Hee will join President Biden and first lady Jill Biden for a state dinner Wednesday to commemorate the 70th anniversary of the U.S.-ROK alliance.
On Thursday, Yoon is expected to deliver a speech at a joint session of Congress, making him the first South Korean president to do so in a decade, according to The Washington Post.
The White House said the alliance, born out of World War II when the former Soviet Union threw most of its support behind Communist China and North Korea, "is critical to advancing peace, stability, and prosperity for our two countries, the Indo-Pacific, and around the world."
CHINA VOWS 'STRONG' MEASURES AFTER MCCARTHY MEETS TAIWAN'S TSAI ING WEN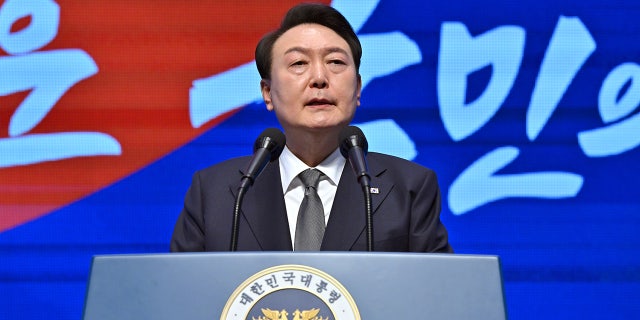 South Korean President Yoon Suk Yeol will travel to the U.S. this week. (Jung Yeon-Je – Pool/Getty Images)
"President Biden and President Yoon will highlight the importance and enduring strength of the ironclad U.S.-ROK alliance as well as the United States' unwavering commitment to the ROK. The Presidents will discuss our shared resolve to deepen and broaden our political, economic, security, and people-to-people ties," White House press secretary Karine Jean-Pierre said in a statement announcing the visit on March 7.
"The most important thing [for this week] is for it to be an opportunity for the people of both countries to properly recognize the historical significance of the … alliance and its achievements," Yoon told The Post in an interview at his presidential office in Seoul before his venture to the United States. "It is indeed the most successful alliance in history and, above all, an alliance based on values."
MCCARTHY, TAIWANESE PRESIDENT MEET, DECLARE 'STRONG BOND' BETWEEN THE TWO NATIONS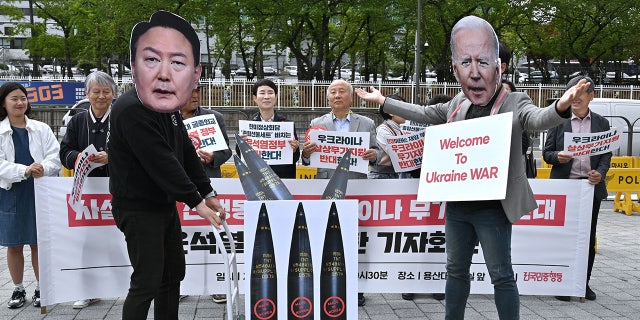 Activists wearing masks of South Korean President Yoon Suk Yeol and President Biden seen outside the presidential office in Seoul, South Korea, on April 21, 2023. Yoon has a planned visit to Washington, D.C., this week. (JUNG YEON-JE/AFP via Getty Images)
As China increasingly more boldly challenges the United States' global military and economic dominance, American security pacts with Japan and South Korea hold greater significance.
Yoon's high-profile visit is complicated by the leak of classified Pentagon documents detailing how South Korea has been grappling with pressure from the United States to supply lethal weapons to support the war in Ukraine from its huge supply of artillery shells the country's been stockpiling since the end of the Korean War in 1953.
Seoul has so far shied away from sending lethal support to Ukraine out of fear of retaliation from Moscow, but Yoon was quoted as telling Reuters last week that "it might be difficult" for South Korea to "insist only on humanitarian or financial support" if the conflict worsens.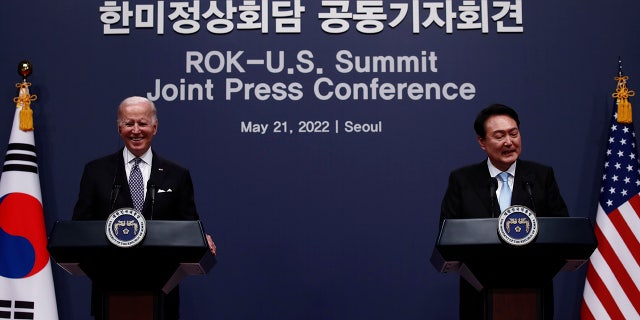 President Biden speaks as South Korean President Yoon Suk-yeol listens during a news press conference on May 21, 2022, in Seoul, South Korea. Biden will host Yoon at the White House for a state dinner on Wednesday. (Jeon Heon-Kyun – Pool/Getty Images)
CLICK HERE TO GET THE FOX NEWS APP
"Of course, Ukraine is under an illegal invasion, so it is appropriate to provide a range of aid, but when it comes to how and what we will supply, we cannot but consider many direct and indirect relationships between our country and the warring countries," Yoon told The Post.
A range of issues impacting the alliance will likely be discussed between Biden and Yoon this week, including how the Inflation Reduction Act and the Chips Act have negatively impacted South Korean manufacturers and Seoul's desire to acquire its own nuclear weapons instead of relying solely on the U.S. protection guarantee.