Carol Burnett is so glad we had this time together.
The legendary comedienne, who is turning the big 9-0 on April 26, is offering more time and tunes with the help of her celebrity pals. Her birthday will be commemorated with a two-hour special titled "Carol Burnett: 90 Years of Laughter + Love," which will feature performances from Katy Perry, Kristin Chenoweth and Bernadette Peters, just to name a few. Guest stars also include Cher, Ellen DeGeneres, Steve Carell and Amy Poehler.
The two-hour tribute was taped in March.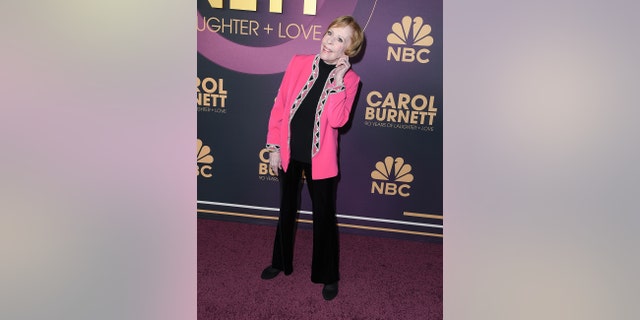 Carol Burnett's birthday tribute was film at Avalon Hollywood & Bardot on March 2, 2023, in Los Angeles. It is airing on April 26, when she turns 90. (Photo by Steve Granitz/FilmMagic)
"What I love about it was the fact that it wasn't a roast, and it wasn't a birthday party with a cake and balloons and stuff," Burnett chuckled to Fox News Digital. "It was a two-hour variety show. We had a 19-piece orchestra and I had so many friends who were there. And the live entertainment, my gosh… It was really exciting."
"It was just a party – everybody had a good time," she added.
The actress had her first breakout role on Broadway at age 26 in 1959, singing in the musical fairytale spoof, "Once Upon a Mattress." During her decades-long career, Burnett has earned six Emmys, six Golden Globes and one Grammy – just a few of her many awards. Her variety show, which aired from 1967 until 1978, brought in 25 Emmys.
CAROL BURNETT REVEALS THE MOST 'DEVASTATING' SKETCH SHE FILMED ON HER NAMESAKE TV SHOW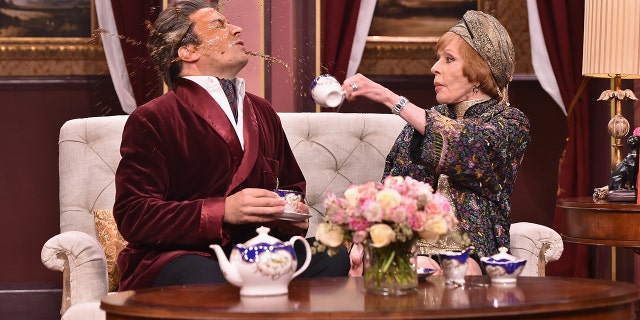 Carol Burnett and Jimmy Fallon perform a skit during a taping of "The Tonight Show Starring Jimmy Fallon" at Rockefeller Center on Oct. 6, 2014, in New York City. (Theo Wargo/NBC/Getty Images for "The Tonight Show Starring Jimmy Fallon")
However, Burnett feels something is missing from modern sketch shows. When reflecting on today's comedy, she admitted she misses the classics, noting "I'd like to see variety come back."
"But [the networks] could never do what we did because I think the cost would be extravagant now," she explained. "We had a 28-piece orchestra, 12 dancers. We had 60 to 75 costumes a week. Bob Mackie designed for our guest stars. All of that you couldn't do today. It would be too much. We did kind of a Broadway mini-musical comedy review every week. And that couldn't be done today. But there could be a hybrid of some way to do a variety show because there are people who could certainly do variety. But I don't think a network would take a chance. I just wish they would."
Many fans have said "The Carol Burnett Show" paved the way for "Saturday Night Live." However, if there is one thing Burnett will not do, it is host.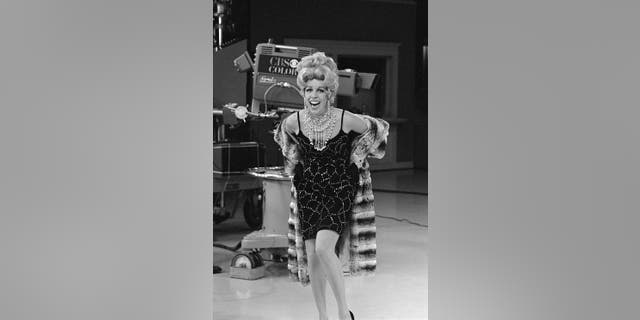 Many fans had hoped that Carol Burnett would host "Saturday Night Live." (CBS Photo Archive/Getty Images)
"I would not be interested," said Burnett. "That's all I can say."
Looking back at her career, Burnett said she was initially discouraged from doing comedy her way. She was told by one of the vice presidents at CBS that variety was "a man's game" reserved for stars like Milton Berle, Jackie Gleason and Dean Martin. There was no room for her, he stressed.
She did not listen.
CLICK HERE TO SIGN UP FOR THE ENTERTAINMENT NEWSLETTER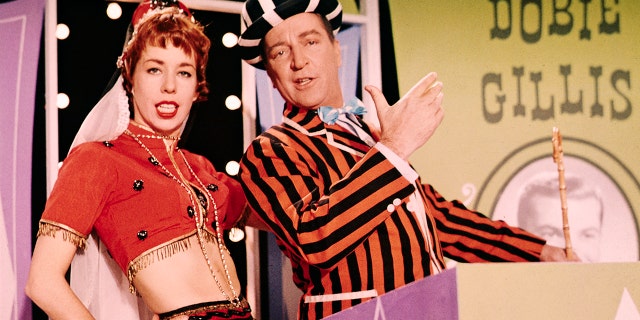 After Carol Burnett left "The Garry Moore Show" in 1962, she signed a 10-year contract with CBS. (Getty Images)
"I had done 'The Garry Moore Show,' which was a very good variety show," she explained. "So, I had all of that experience under my belt. [But] they poo-pooed my idea, saying, 'No, you can't do that.' And [they] had a sitcom they wanted me to do, to which I said, 'I don't want to be the same person every week. I want variety, I want music, I want different characters to do.' They had to put us on the air because I had a 10-year contract… I just said, 'This is what I know, and this is what I want to do.' I wasn't deterred at all. I just simply said, 'I want to have fun.' And I pushed for that. They had to put it on the air."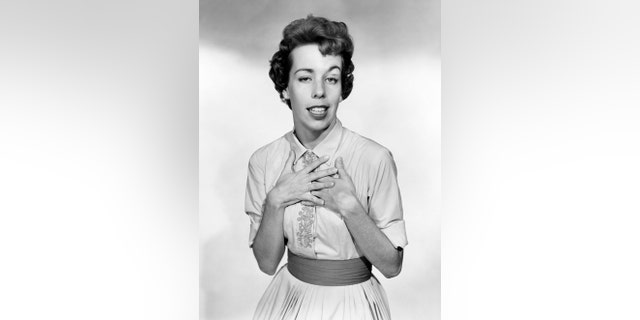 Carol Burnett was initially discouraged from launching a variety show. (John Springer Collection/CORBIS/Corbis via Getty Images)
Burnett said that fellow comedienne Lucille Ball happily served as a mentor and even gave her a gig when she was out of work. The women developed a close friendship, one that lasted until the "I Love Lucy" star's death in 1989 at age 77.
"She never tried to give me any advice," Burnett said. "She was not one to give any kind of advice. She just supported me. And we had fun working together. Having fun was so important to us."
'I LOVE LUCY' STAR KEITH THIBODEAUX RECALLS PLAYING 'LITTLE RICKY,' WORKING ALONGSIDE LUCILLE BALL, DESI ARNAZ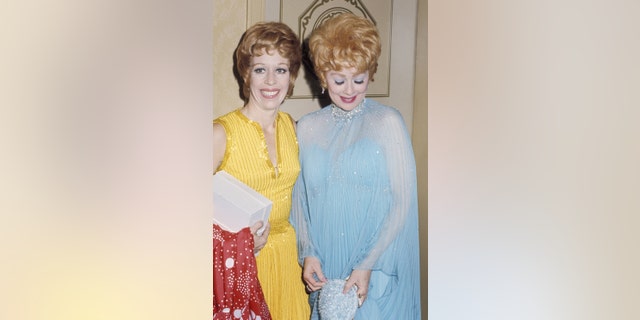 Lucille Ball, right, who starred in "I Love Lucy," served as a mentor for Carol Burnett. (Ron Galella/Ron Galella Collection via Getty Images)
Burnett famously never reshot a sketch whenever one of her co-stars broke character mid-scene; and that is exactly what happened when she filmed "Went with the Wind!", a nearly 20-minute spoof of the 1939 film "Gone With the Wind."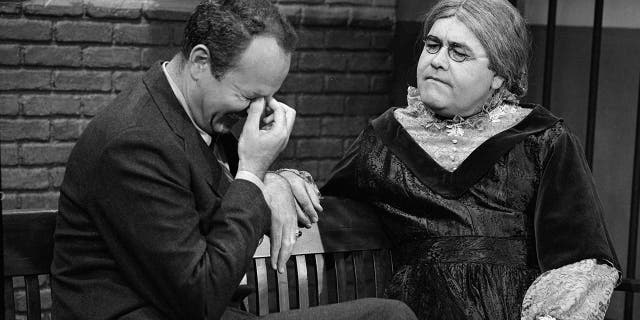 The cast members of 'The Carol Burnett Show' often broke character while filming. (Getty Images)
During the skit, Burnett made her entrance as "Scarlett" down a flight of winding stairs in a dress made of drapes still hanging from a brass curtain rod. The scene was ranked as one of the funniest TV moments of all time. The velvet gown, designed by Mackie, is now part of the Smithsonian Museum's collection.
"When we read the sketch, the writers had written that I would run up the stairs and then come back down with the draperies just hanging on me," Burnett explained. "Bob Mackie, who's so brilliant, thought, 'Well, that's not as funny as it could be.' I went into the costume fitting that week, and he said, 'I have an idea for the curtain dress.' I walked into the fitting room, and he had it on this mannequin. I just fell to the floor."
BOB MACKIE REFLECTS ON WORKING WITH CAROL BURNETT, CREATING VERY RACY LOOK FOR CHER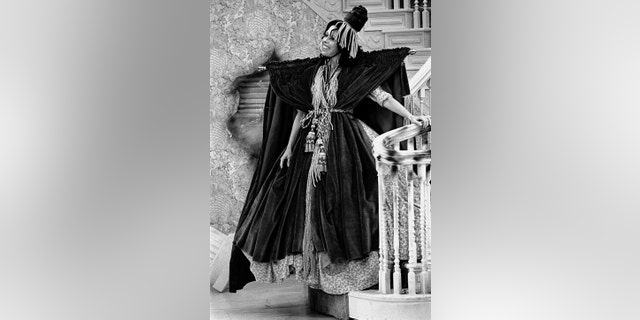 In a scene from "The Carol Burnett Show," circa 1976, Carol Burnett descends a staircase, dressed in a gown made from a window curtain (complete with the curtain rod) during a parody of "Gone With the Wind." (CBS Photo Archive/Getty Images)
"I was laughing so hard," she shared. "I said, 'Bob, this is going to go down in history as one of the funniest gags ever on television. I knew it was going to get a crazy, wonderful response. I remember being right at the top of the stairs. And when I entered, it was like a cannon went off in the studio. The audience – everybody – was just hysterical. But I wasn't surprised. I expected it. I knew it would be a hit. And it was all Bob's thinking. He's a genius. He designed 60 to 70 costumes a week on our show, not just what I wore, but what everybody wore – all the sketches. He designed the looks for everybody."
"The Carol Burnett Show" made sides split across the country for 11 seasons. She went on to headline "Carol and Company" for another two. Over the years, Burnett happily stayed busy in showbiz. She played Miss Hannigan in 1982's "Annie" and guest starred in several hit shows, including "Better Call Saul" just last year.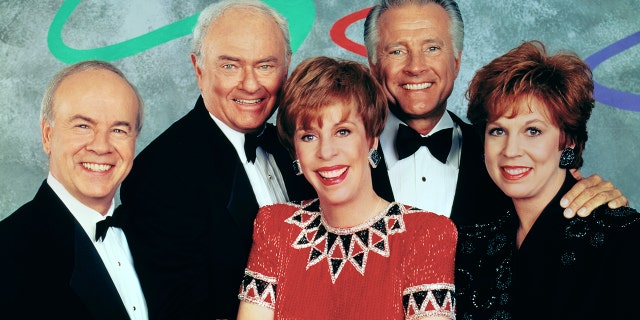 From left to right, Tim Conway, Harvey Korman, Carol Burnett, Lyle Waggoner and Vicki Lawrence.  (CBS via Getty Images)
Reminiscing is bittersweet for Burnett. Several members of the cast from "The Carol Burnett Show" have passed including Harvey Korman in 2008, Tim Conway in 2019 and Lyle Waggoner in 2020. However, Burnett is grateful she is still making audiences laugh many years later, including those that have cheered her on along the way, like "good chum" Julie Andrews. The Oscar winner is part of Burnett's birthday bash.
TIM CONWAY'S DAUGHTER RECALLS LEGAL BATTLE WITH STEPMOM OVER 'CAROL BURNETT SHOW' STAR'S CARE: 'IT WAS A MESS'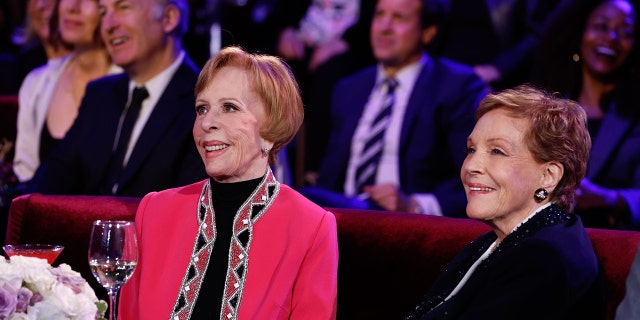 Carol Burnett, left, and Julie Andrews are still incredibly close. (Trae Patton/NBC via Getty Images)
"One thing I have always said is that she's very bawdy in a good sense of the word," said Burnett. "And very funny. She gave me class when I worked with her. And she said I allowed her to be silly. It was wonderful to have her there. She sat with me the whole evening. She flew out just for this. It was so sweet. I was just so touched. And then there's a tribute with Kristin Chenoweth and Bernadette Peters singing the Sondheim song 'Old Friends.' I got a little teary-eyed at one point."
"It was all incredible," she shared. "I'm still reeling from it. It was a celebration of everything I've done. And it feels wonderful."
"Carol Burnett: 90 Years of Laughter + Love" airs April 26 at 8 p.m. The Associated Press contributed to this report.