The Republican mayor of Huntington Beach, California, accused Democrats Gov. Gavin Newsom and Attorney General Rob Bonta of "singling out" his city in a lawsuit over affordable housing mandates when a rampant homelessness crisis permeates the Golden State.
"AG Bonta's statement today about 'amending' the State's current lawsuit against Huntington Beach is wrong. The City Attorney is requesting the court dismiss the State's lawsuit involving SB 9 and ADU's because it is entirely moot. If the State wants to now sue the City for an alleged Housing Element violation, the State's laws on procedure require the State to file a new lawsuit. Simply 'amending' is not an option. Bonta should know that," Huntington Beach Mayor Tony Strickland said in a statement Monday.
"Moreover, Bonta has over 240 other cities in the State of California that do not have certified Housing Elements," he wrote. "The fact that the Attorney General is singling out Huntington Beach only strengthens the City's arguments in court that the State is not following the law with these housing mandates. These regular State press releases announcing legal actions against Huntington Beach may grab headlines, but they do not intimidate or deter the City, and they have no effect in the court of law, where these conflicts of law will ultimately be decided."
Strickland's statement came in response to an announcement earlier Monday that Bonta, Newsom and the California Department of Housing and Community Development (HCD) filed a motion to amend the state's lawsuit against Huntington Beach.
WHAT GAVIN NEWSOM'S 'MAKE AMERICA CALIFORNIA' TOUR CONVENIENTLY IGNORED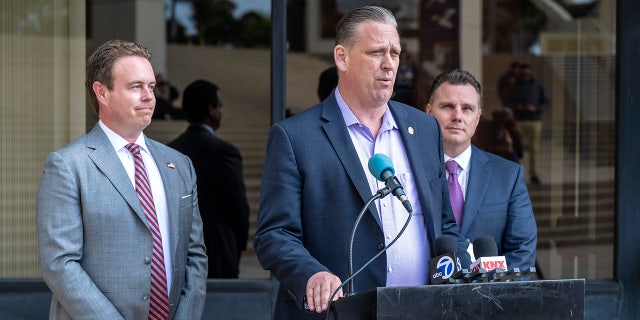 Seen with by Councilman Casey McKeon and City Attorney Michael Gates, Huntington Beach Mayor Tony Strickland has been critical of California State Attorney General Rob Bonta's litigation if the city refuses state housing mandates. (Mark Rightmire/MediaNews Group/Orange County Register via Getty Images)
California originally filed the lawsuit on March 8, arguing that the city's ban on the processing of SB 9 and Accessory Dwelling Unit (ADU) applications violated state housing laws and must be struck down. The Huntington Beach City Council later reversed course and voted on March 21 to resume processing SB 9 and ADU project applications.
According to the state legislature, Senate Bill 9 – the California Housing Opportunity and More Efficiency (HOME) Act – is meant to streamline the process for a homeowner to create a duplex or subdivide an existing lot. The legislation deems that any new housing created as a result of this bill must meet a specific list of qualifications that protects historic districts, preserves the environmental quality and the look of communities and prevents tenants from being displaced.
But a federal lawsuit filed by City Attorney Michael Gates argues that the state is violating Huntington Beach's 1st and 14th Amendment rights in unconstitutionally wielding preemptive power over charter-city rights to zone property, the Los Angeles Times' Daily Pilot reported.
At a meeting on April 4, Newsom's administration contended that the Huntington Beach City Council "once again violated state housing law by failing to adopt a housing element that is 16 months overdue — a decision that jeopardizes critical affordable housing opportunities for Huntington Beach residents." On Monday, Bonta submitted an amended complaint in People of California v. City of Huntington Beach, arguing that the city is in violation of the state Housing Element Law and seeking both penalties and injunctive relief.
The state's Democrat leadership has advocated in support of more housing to address the homelessness crisis.
LA LUXURY REAL ESTATE AGENTS RUSH TO OFFLOAD PROPERTIES BEFORE 'MANSION TAX' HITS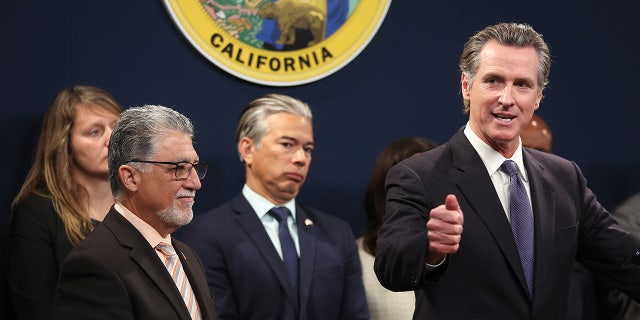 California Gov. Gavin Newsom and California Attorney General Rob Bonta reintroduced litigation Monday against Huntington Beach. (Justin Sullivan/Getty Images)
"California is in the midst of a housing crisis, and time and time again, Huntington Beach has demonstrated they are part of the problem by defiantly refusing every opportunity to provide essential housing for its own residents," Bonta said in a statement Monday.
"Huntington Beach continues to fail its residents," Newsom added. "Every city and county needs to do their part to bring down the high housing and rent costs that are impacting families across this state. California will continue taking every step necessary to ensure everyone is building their fair share of housing and not flouting state housing laws at the expense of the community."
HCD Director Gustavo Velasquez contended that "more housing is the path to ending and reducing homelessness, but Huntington Beach continues to brazenly violate state housing laws — wasting valuable time and taxpayer money instead of working on solutions."
The Huntington Beach City Council, which flipped to Republican control last year, has recently been discussing its campaign promise for a 90-day plan to end homelessness.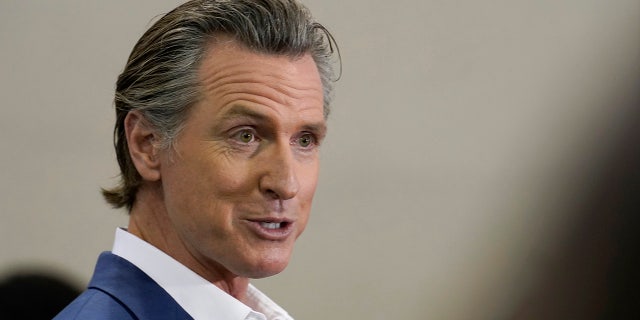 California Gov. Gavin Newsom accused Huntington Beach of failing its residents on affordable housing goals. (AP Photo/Rich Pedroncelli, File)
CLICK HERE TO GET THE FOX NEWS APP
The Voice of OC reported that the council met in late March to iron out the initiative calling for an audit of the city's programs for the homeless, updating the city's homeless solutions website and allocating overtime funding for homeless task force police officers to educate business owners and residents about resources and property rights. The plan reportedly also includes overtime funding for social workers to engage with homeless people, including conducting a review of the cases of people staying at shelters for longer than six months.