A San Francisco-based activist is trying to crowdfund his move out of the Tenderloin neighborhood, which he compares to a "zombie apocalypse" and says has become uninhabitable.
"Every night I go to sleep to the sounds of sirens. Every morning I wake up to people screaming," Darren Mark Stallcup told Fox News. "My apartment has been broken into three plus times in the last year. I've had to fight off burglars with my own two bare hands."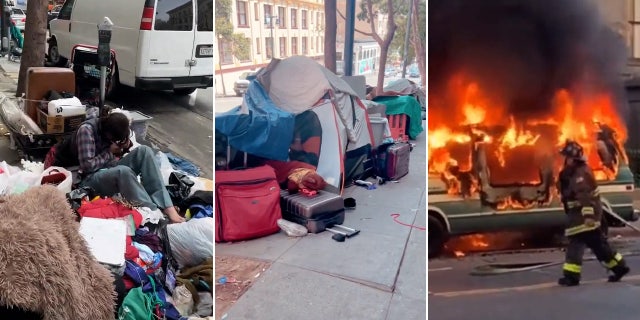 Darren Mark Stallcup shares videos of what he calls the "fentanyl genocide" in San Francisco. The 26-year-old is now crowdfunding in an attempt to move out of the city's notorious Tenderloin neighborhood. (Screenshots courtesy @darren_stallcup/Twitter)
SAN FRANCISCO BAY AREA MOTHER OF FENTANYL USER WARNS CITY IS ENABLING SON'S DRUG USE
Stallcup has documented the drug and homeless crises in San Francisco for years on Twitter, sharing videos of trash-strewn streets, people appearing to overdose or behave erratically under the influence of drugs, violent altercations, shoplifting and more.
He wants to move to a safer neighborhood, but said he won't leave San Francisco altogether.
"I might potentially be the last Republican in San Francisco and I can't abandon ship. Only rats leave a sinking ship," he said. "And I can't help but feel like if I leave San Francisco, I'm going to let these corrupt Democrats win."
Overdose deaths have soared in San Francisco, and the Tenderloin has been called the epicenter of the region's fentanyl crisis. Mayor London Breed declared an emergency in the neighborhood in 2021, but little has improved since then.
"It seems as if my apartment building is surrounded by bodies, fecal [matter], needles, crack pipes, tents," Stallcup said. "I am personally witnessing a fentanyl genocide."
"I am struggling with both my physical and mental health, even my spiritual health, because I'm surrounded by chaos and death on a regular basis," he added.
To hear more from Stallcup, click here.