Up to one million smokers will be encouraged to swap cigarettes for "vapes", with pregnant women offered financial incentives to make the change in what will be a world first, the British government said on Tuesday.
Under the scheme, almost one in five smokers will be given a vape – an e-cigarette – starter kit along with support to help quit smoking, the Department of Health (DoH) said.
Pregnant women will also be offered vouchers to help them kick the habit as part of the government's target of reducing the number of smokers to 5% or less of the population from 13% now.
NEW JERSEY LAWMAKERS WEIGH SMOKING BAN FOR ATLANTIC CITY CASINOS
"Up to two out of three lifelong smokers will die from smoking. Cigarettes are the only product on sale which will kill you if used correctly," Health Minister Neil O'Brien will say in a speech later on Tuesday, the government said.
"We will offer a million smokers new help to quit. We will be funding a new national 'swap to stop' scheme – the first of its kind in the world."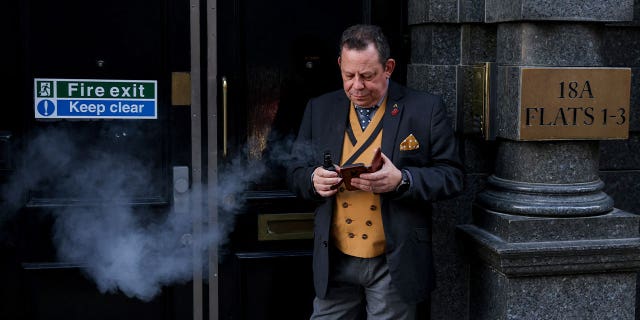 A man smokes an e-cigarette in a fire escape doorway in London, Britain, on Nov. 13, 2022. Residents in Britain will be encouraged to swap cigarettes for vapes in the world's first "swap to stop" plan. (REUTERS/Kevin Coombs)
Although worldwide average smoking rates are higher than in Britain, tobacco is still the highest preventable cause of death and illness in the country, the DoH said.
The government spent $84.52 million in 2021-22 on local authority measures to get people to stop smoking, leading to 100,000 smokers quitting, and easing the strain on Britain's overwhelmed National Health Service.
CLICK HERE TO GET THE FOX NEWS APP
Vaping, however, has its critics and health officials have warned its popularity among children is exposing them to chemicals whose long-term effects are unclear.
Health service figures show 9% of 11 to 15-year-olds in Britain had used e-cigarettes in 2021, up from 6% three years before. The government said it would set up an enforcement squad backed by 3 million pounds in funding to prevent the illegal sale of vapes to under 18s.