House Speaker Kevin McCarthy on Thursday blamed President Biden for the lack of progress so far in a deal that would allow the government to borrow more money once it hits the debt ceiling in early June.
Biden, McCarthy and other congressional leaders were scheduled to meet on Friday to talk about a possible deal to increase the borrowing limit and meet the GOP demand of reducing federal spending. But that meeting was pushed until next week, and McCarthy said the delay is because the White House isn't budging.
"I have not seen from there a seriousness of the White House that they want a deal," McCarthy told reporters Thursday. "It seems like they want a default more than they want a deal."
BIDEN GETS HEATED WITH REPORTER AFTER ASKED ABOUT DEBT CEILING: 'YOU DIDN'T LISTEN'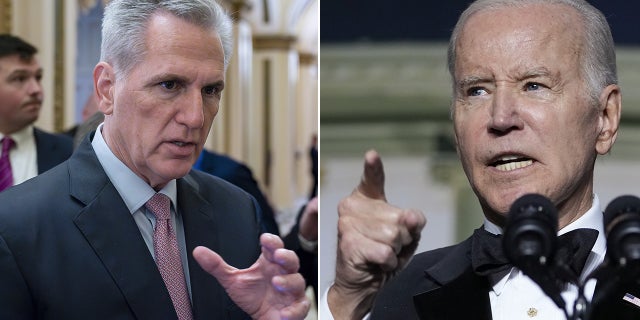 President Biden, right, has said he won't negotiate with House Speaker Kevin McCarthy and Republicans over the debt limit. (AP Photo/J. Scott Applewhite / Carolyn Kaster, File)
McCarthy's message is a sign that the two sides still have a ways to go before anything close to a deal can be reached. Democrats have insisted on a "clean" debt ceiling increase so the government can pay its bills after June 1, while Republicans are seeking a spending cut of about $150 billion before they can agree to more debt.
The stalemate has the potential to roil financial markets as the deadline gets closer, although both sides have insisted that a default on the U.S. debt will not happen.
McCarthy said staff members have met over the last two days, but said there was not enough progress to warrant holding the Friday meeting with leaders.
MCCARTHY AGREES TO MAY 9 MEETING WITH BIDEN TO RESOLVE DEBT CEILING STANDOFF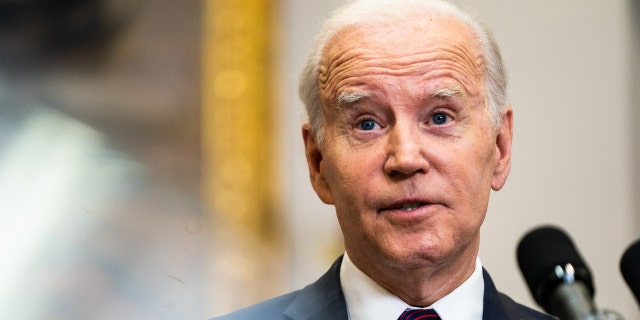 President Biden has so far refused to accept any spending cuts as the cost of getting an increase in the debt ceiling. ((Photo by Demetrius Freeman/The Washington Post via Getty Images))
"We think it's productive for the staff to meet again," McCarthy said, adding that both parties agreed to the delay.
"The White House didn't cancel the meeting," McCarthy said. "All of the leaders decided it's probably the best of our interest to let the staff meet again before we get back together."
Just two days ago, Biden and House Speaker Kevin McCarthy, R-Calif., and other leaders agreed to hold staff level talks on how to raise the debt ceiling before the government is unable to pay its current obligations by early June. But even then, the White House made it clear it wanted to keep talks about the debt ceiling separate from talks about spending cuts.
REPUBLICANS HAVE THE UPPER HAND OVER DEMS IN DEBT CEILING NEGOTIATIONS, BUDGET EXPERT SAYS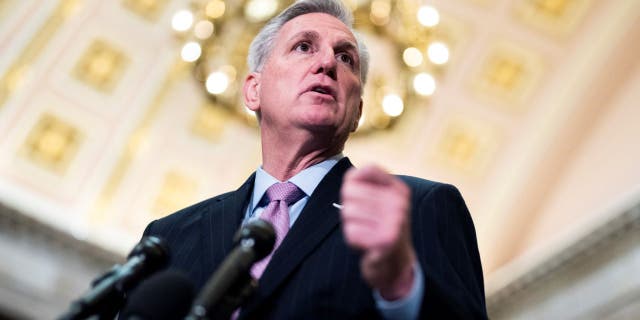 McCarthy said he believes both sides will meet again next week. (Tom Williams/CQ-Roll Call, Inc via Getty Images) (Tom Williams/CQ-Roll Call, Inc via Getty Images)
House Majority Whip Tom Emmer, R-Minn., told Fox News Digital on Wednesday afternoon that talks from earlier in the week didn't get very far, and said he didn't have a readout of how Wednesday and Thursday talks had gone.
"Yesterday and then today, whether they're making progress, I don't know," Emmer said. "But they're still meeting and there's a plan for a second meeting, at least of the speaker and the president."
CLICK HERE TO GET THE FOX NEWS APP
"I assume based on what I've heard, that they were trying to say that they don't like some things in the Republican plan without offering solutions," Emmer added.
"I would say everybody is on their own. But right now the only deal that is out there is the deal that Kevin McCarthy and House Republicans passed," he told Fox News Digital. "If Chuck Schumer could pass a debt ceiling proposal in the Senate, great, then you just have our conference — and Let's hammer it out. But he can't because they don't have the votes to do that."