FIRST ON FOX: A group of Republican senators are calling for the Biden administration to use sanctions, visa bans and other tools against Mexican officials to spark an "unresponsive" President Andres Manuel Lopez Obrador into action against cartels funneling fentanyl and other drugs into the U.S.
In a letter to Treasury Secretary Janet Yellen and Secretary of State Antony Blinken, senators led by Sen. Bill Hagerty, R-Tenn., say that the administration's approach to diplomacy with Mexico has downplayed the Mexican president's "provocations" and accommodated "his insistence on fundamentally negotiating security cooperation with the United States."
"President Lopez Obrador has proven unresponsive to the administration's policy to date," the Republicans wrote. "Despite the Executive Branch's overtures and attempts at accommodation, he has clearly made the deliberate choice to pursue a permissive and non-confrontational policy toward the cartels, to turn a blind eye toward pervasive corruption in Mexico, and to downgrade counter-narcotics cooperation with the United States."
The letter is co-signed by Sens. James Risch, R-Idaho, Marco Rubio, R-Fla., Marsha Blackburn, R-Tenn., Ted Cruz, R-Texas, and John Barrasso, R-Wyo.
But the administration has also been critical of Mexican lack of cooperation on the matter. In March, Attorney General Merrick Garland told lawmakers that Lopez Obrador "is helping us, but he could do much more." Blinken, meanwhile, said he agreed with the statement that Mexican cartels are in control of parts of Mexico, and that the State Department would consider declaring cartels foreign terrorist organizations.
The U.S. remains in a deep fentanyl crisis, with tens of thousands of deaths a year from the illicit narcotic — which can be fatal in small doses and is primarily produced in Mexico using Chinese precursors before it is smuggled across the U.S. border by the cartels. Over 19,000 lbs have been seized at the southern border this fiscal year, compared to 14,000 lbs in FY 2022 and 10,000 lbs in FY 2021.
Lopez Obrador, meanwhile, has made the bizarre and false claim that fentanyl is not produced in Mexico — while blaming the U.S. for its fentanyl problem.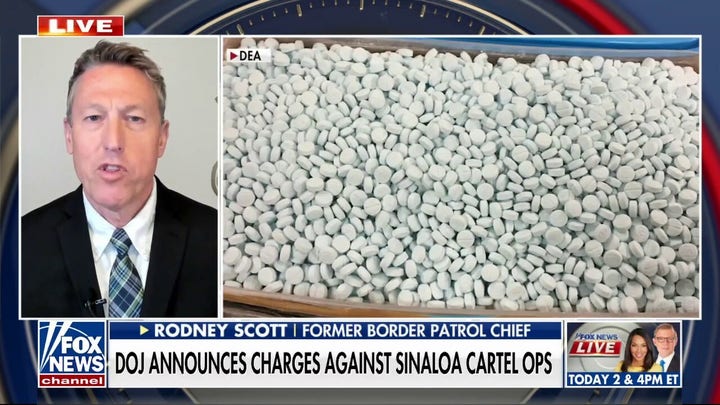 Video
The lawmakers argue that the administration should use expanded sanctions as leverage and to be more assertive in their actions with the Mexican government.
"This includes imposing sanctions and visa bans targeting Mexican officials starting at the state and local level of government who directly support or enable the cartels, until Lopez Obrador's Administration resumes support for joint operations, increases intelligence sharing, and escalates pressure against the cartels and their enablers in government," they say.
MEXICAN PRESIDENT THREATENS TO MEDDLE IN US ELECTIONS WITH 'INFORMATION CAMPAIGN' AGAINST REPUBLICANS
"We remain committed to supporting our Mexican partners to protect and keep our communities safe from criminal networks," they said.
The GOP call for action is the latest such move from Republican lawmakers. Earlier this year, Republicans in both chambers of Congress called for greater U.S. action, including potentially taking out drug labs in Mexico.
Lopez Obrador responded by taking aim not at the cartels, but at the Republican lawmakers by threatening to meddle in U.S. elections against them.