FIRST ON FOX – Democratic presidential candidate Robert F. Kennedy Jr. was quick to reject the growing corruption allegations facing the Biden family as a campaign issue in a new interview.
"I don't have a comment on that," Kennedy told Fox News Digital on Saturday in response to the corruption claims plaguing the First Family.
Kennedy, who spoke at the libertarian FreedomFest conference in Memphis, Tenn., was then pressed on the controversies surrounding Hunter Biden and the findings from House Republicans claiming millions of dollars in foreign money had been funneled to the Biden family. He refused to opine.
RFK JR CLAIMS BIDEN TROOP MOBILIZATION IS PREP FOR 'GROUND WAR WITH RUSSIA'
The Biden challenger previously refrained from weighing in on the plea deal Hunter struck with the DOJ.
Kennedy's comments echo the sentiment Sen. Bernie Sanders, I-Vt., had in the 2016 presidential election cycle when he dismissed Hillary Clinton's email scandal during the first primary debate.
RFK JR LECTURES SOCIAL MEDIA SITES ON FIRST AMENDMENT AFTER YOUTUBE MEMORY-HOLED HIS 'DISSENTING VIEWS'
Two IRS whistleblowers allege that Delaware U.S. Attorney David Weiss had requested to bring more severe charges in California and Washington, D.C., but was denied, something Weiss himself has pushed back against despite the fact that The New York Times independently verified one of those claims.
One of the whistleblowers, IRS special agent Gary Shapley, claimed investigators were deterred from looking into any potential financial ties Hunter Biden had with his father.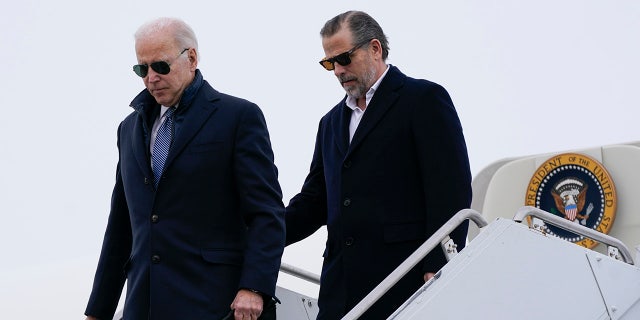 Questions continue swirling around President Biden and his son Hunter over corruption allegations involving foreign business dealings.  (AP Photo/Patrick Semansky)
A separate FBI whistleblower claimed the DOJ was informed about a potential bribery scheme involving Biden himself and a foreign entity as vice president.
Fox News' David Unsworth contributed to this report.