The Philippines' most active volcano was spewing lava down its slopes on Monday, prompting officials to warn tens of thousands of villagers to be prepared to flee from their homes if the gentle eruption turns into a violent and life-threatening explosion, officials said Monday.
More than 13,000 people have left the mostly poor farming communities within a 3.7-mile radius of Mayon Volcano's crater in mandatory evacuations since volcanic activity increased last week. But an unspecified number of residents remain within the permanent danger zone below Mayon, an area long declared off-limits to people but where generations have lived and farmed because they have nowhere else to go.
With the volcano beginning to expel lava Sunday night, the high-risk zone around Mayon may be expanded should the eruption turn violent, said Teresito Bacolcol, director of the Philippine Institute of Volcanology and Seismology. Bacolcol said if that happens, people in any expanded danger zone should be prepared to evacuate to emergency shelters.
VILLAGERS IN THE PHILIPPINES TOLD TO LEAVE AS OFFICIALS RAISE ALERT LEVEL FOR NEARBY VOLCANO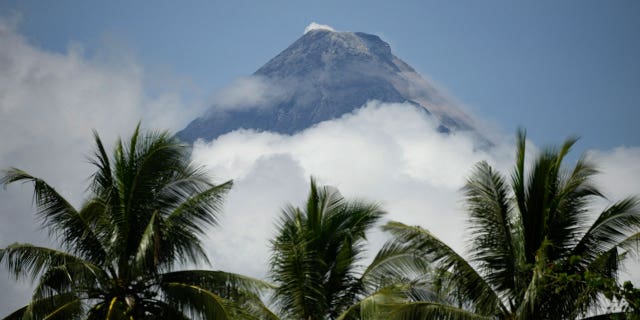 Mayon Volcano is seen from Guinobatan, northeastern Philippines, on June 12, 2023 (AP Photo/Aaron Favila)
Marilyn Miranda said she, her daughter and 75-year-old mother, who recently suffered a stroke, fled their home in a village within the danger zone in Guinobatan town on Thursday and sought shelter at a sweltering high school turned into an evacuation center. Her nephew returns to their home each day, as do other men in their impoverished rural neighborhood to guard their houses and farm animals, she said.
From the overcrowded evacuation center, they were terrified to see the bright red-orange lava streaks gushing down Mayon's slope on Sunday night. "We had this feeling that our end is near," Miranda told the AP, breaking into tears.
Mayon's new eruption was one of back-to-back tragedies that struck Amelia Morales and her family in recent days. Her husband died of an aneurism and other illnesses on Friday and she had to hold his funeral wake in a crowded emergency shelter in Guinobatan because she and her neighbors had been ordered to stay away from their community near Mayon.
The volcano had been raised to alert level three on a five-step warning system Thursday, meaning the volcano was in a state of high unrest and a hazardous eruption is possible in weeks or days.
With lava flowing down from the volcano gently, Bacolcol said the alert level would stay at three but it could be moved up higher if the eruption suddenly turns perilous.
CLICK HERE TO GET THE FOX NEWS APP
In 1991, Mount Pinatubo north of Manila blew its top in one of the biggest volcanic eruptions of the 20th century, killing hundreds.