An Ohio doctor acquitted in the deaths of 14 patients who died after they were given painkillers has filed a lawsuit against a national Catholic health system that operates the hospital where he worked in the intensive care unit.
William Husel claims malicious prosecution and names Trinity Health Corp. in a complaint filed Wednesday in federal court in Detroit. He is seeking a jury trial and at least $20 million in damages.
Husel was accused of ordering painkillers for patients in the Columbus-area Mount Carmel Health System. He was indicted in cases that involved the use of at least 500 micrograms of the powerful painkiller fentanyl.
OHIO DR. WILLIAM HUSEL ACQUITTED ON ALL CHARGES ALLEGING HE MURDERED 14 PATIENTS WITH EXCESSIVE PAINKILLER USE
Prosecutors in that case had said ordering such dosages for a nonsurgical situation indicated an intent to end lives. Husel's attorneys argued he was providing comfort care for dying patients, not trying to kill them.
A jury found Husel not guilty of 14 counts of murder in April 2022.
Husel was fired in late 2018 from Mount Carmel West Hospital, a member of Trinity Health. He later was indicted on 25 murder counts. Eleven of those counts were dismissed by county prosecutors in January 2022.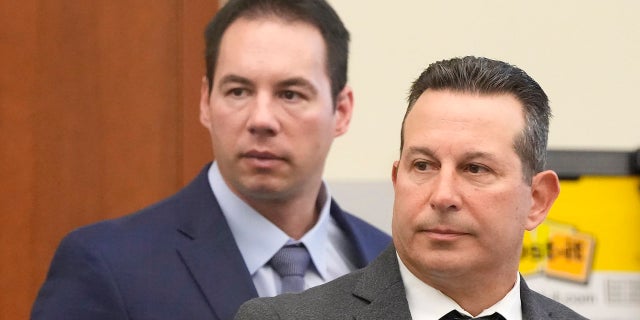 William Husel, a doctor acquitted of 14 murder charges after being accused of overprescribing painkillers, has filed a malicious prosecution lawsuit against Trinity Health Corp. (Barbara J. Perenic/The Columbus Dispatch via AP, Pool, File)
Husel "voluntary relinquished his license to practice medicine," according to the federal lawsuit.
"Dr. Husel understood that, notwithstanding the acquittal, the reputation damage he endured would prevent him from ever working as a doctor," the complaint said.
A separate defamation lawsuit against Trinity is awaiting trial in Ohio's Franklin County, according to Husel's attorney, Robert Landy of the New York-based Ford O'Brien Landy law firm.
OHIO JURY DEADLOCKED IN TRIAL OF DOCTOR ACCUSED OF KILLING PATIENTS BY OVERPRESCRIBING FENTANYL
That lawsuit was filed while Husel was under indictment. The damages sought by Husel in the malicious prosecution lawsuit are in case he does not recover the amount in the defamation case, Landy said.
"A malicious prosecution case says that a person complains to the authorities for the purpose of getting you arrested and indicted, as opposed to good faith belief that you've done something wrong," Landy said. "It only works if the defendant is acquitted."
Trinity Health said through a spokeswoman Thursday that the allegations in the lawsuit "are unfounded."
CLICK HERE TO GET THE FOX NEWS APP
"We will address the matter as appropriate through the legal process," Trinity Health said in an email. "As this is an active lawsuit, we have no further comment."