The U.S. Department of Justice announced a 59-count indictment of eight members and associates of the Crips gang on Thursday for several violent crimes across Long Island, New York as well as firearms offenses, racketeering and fraud.
The eight members and associates belong to a subset of the Crips known as the Insane Crip Gang, or ICG.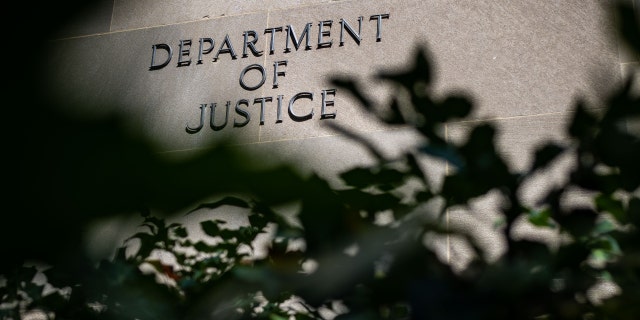 The Department of Justice in Washington, D.C. (Kent Nishimura / Los Angeles Times via Getty Images))
The defendants named in the indictment are Akeem Chambers, of Uniondale, New York; Jahziah Dindyal, 19, of Hempstead, New York; Jonathan Gonzalez, 23, of Greensboro, North Carolina; Lesly Pardo, 26, of Mount Sinai, New York; Rob Pardo, 25, of Mount Sinai, New York; Jalen Rogers, 20, of Hempstead, New York; and Jonathan Vazquez, 21, of Hempstead, New York.
ARREST OF CLASSIFIED DOCUMENTS LEAK SUSPECT JACK TEIXEIRA MET WITH OUTRAGE: 'INCOMPETENCE IS STUNNING'
According to a press release from the DOJ, seven of the suspects were taken into custody on Thursday morning and one remains at large.
The suspects are accused of participating in dozens of gang-related shootings and multiple murders in Nassau County, New York since 2015.
Chambers, the release read, took part in over a dozen shootings between 2020 and 2022. One of those shootings resulted in the death of 28-year-old Thiasia Williams.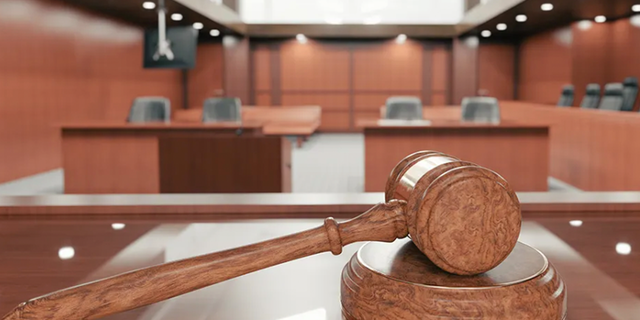 Inside a courtroom with gavel in view.  (iStock)
On Aug. 1, 2020, Chambers, Rob Pardo and another associate of the ICG went to a party in Hempstead where members of a rival gang were expected to be.
DOJ TO APPEAL ABORTION PILL CASE TO SUPREME COURT
Chambers and an associate, each armed with a 9mm fired at least eight times at party goers with Gonzalez behind the wheel. One of the bullets struck Williams, who was sitting in her car outside the party to pick up a friend. Another bystander was also struck by gunfire, and the wound was non-life-threatening.
Chambers is also accused of participating in the robbery of James Diamond in Freeport, New York in 2021. During the incident, Chambers and another person were armed with guns, approached Diamond and another man, and attempted to rob them at gunpoint.
The DOJ said Chambers' co-conspirator shot and killed Diamond.
Rogers was charged with more than a half-dozen violent crimes including attempted murder and attempted kidnapping, and at least three of the crimes occurred while he was wearing a court-ordered GPS ankle monitor that placed him at the scene of shootings.
BIDEN'S DOJ WILL PURSUE DEATH PENALTY FOR NYC KILLER DESPITE THE PRESIDENT'S STANCE ON CAPITAL PUNISHMENT
Vazquez, the release read, was charged with killing 19-year-old Joecephus Vanable in November 2016.
Vanable, the DOJ said, was repeatedly targeted by the ICG until he was allegedly shot and killed in Hempstead by Vazquez.
Gang members bragged about the killing on social media, rap videos and in graffiti all around Hempstead.
Vazquez was also accused of opening fire on two Nassau County Police officers who attempted to conduct a traffic stop of his vehicle.
The indictment also included allegations that the gang members netted hundreds of thousands of dollars through fraudulent unemployment benefits applications and the federal Covid-19 Paycheck Protection Program, as well as through identity theft and bank fraud.
Investigators linked 26 guns to the defendants, and 14 of the 26 guns were linked to several shootings committed by members of the ICG.
If convicted, Pardo faces up to 20 years in prison, while the other six defendants face a maximum sentence of life imprisonment.
CLICK HERE TO GET THE FOX NEWS APP
"As alleged, the defendants participated in a staggering amount of extreme violence that shattered lives, maimed rivals and endangered countless innocent bystanders on Long Island. As of today, after three brutal murders, over a dozen shootings, hundreds of thousands of dollars of fraud, their chokehold of fear and violence over our community is finally over," stated U.S. attorney Breon Peace said. "This Office and our law enforcement partners will continue working tirelessly to protect our communities from gang violence and fraud."