The mayor of Louisville, Kentucky, referenced his own assassination attempt by a BLM activist at his campaign headquarters last year Tuesday in pleading for immediate action to end the "gun violence epidemic" in the wake of a shooting authorities say was carried out by a bank employee downtown this week that left five victims dead and eight others injured.
"We have to take action now. We need short-term action to end this gun violence epidemic now. So fewer people die on our streets and in our banks, in our schools and in our churches. And for that, we need help. We need help from our friends in Frankfort and help from our friends in Washington, D.C.," Louisville Mayor Craig Greenberg said at a press conference.
"This isn't about partisan politics. This is about life and death. This is about preventing tragedies," he continued. "You may think this will never happen to you. Never happen to any of your friends or loved ones. I used to think that. The sad truth is that now no one in our city, no one in our state, no one in our country has that luxury anymore. Last year, I survived a workplace shooting, and now yesterday I've lost a very close friend in another workplace shooting. Five more families have lost a loved one."
"This is happening in America everywhere and will keep happening until we say enough and take meaningful action," Greenberg added.
EMOTIONAL KENTUCKY GOV. BESHEAR SAYS HE KNOWS LOUISVILLE BANK SHOOTING VICTIMS PERSONALLY, PLEADS FOR PRAYERS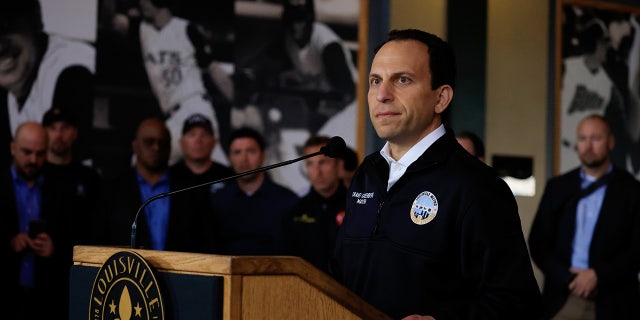 Louisville Mayor Craig Greenberg speaks during a news conference after a gunman opened fire at the Old National Bank building on April 10, 2023. (Luke Sharrett/Getty Images)
While Greenberg was a Democratic mayoral candidate in February 2022, he survived what authorities described as an assassination attempt at his campaign office in Louisville.
Greenberg was not struck, but his sweater was grazed by a bullet when 21-year-old Quintez Brown allegedly entered the building and opened fire toward him. Four other staffers were also present. Brown, a left-wing activist and former newspaper columnist, was initially sprung from jail and placed on house arrest with help from a Black Lives Matter-supported bail fund. He was later rearrested on federal charges in connection to the shooting. As recently as March, prosecutors requested a psychiatric evaluation for Brown, WAVE reported.
In the wake of the unrelated shooting at Old National Bank, Greenberg on Tuesday said he had two requests for "every Kentucky state senator and every Kentucky state representative who wants to join me in reducing the amount of gun violence in Louisville." First, the mayor asked that the city be given autonomy to make its own decisions.
"First, if you support police officers like Officer Wilt and Officer Galloway, who heroically ran into a barrage of fire from a waiting assailant with an assault rifle. If you support local decision-making to address local issues, if you want to help our state's largest city thrive, please give Louisville the autonomy to deal with our unique gun violence epidemic," he said.
WHO ARE THE LOUISVILLE BANK SHOOTING VICTIMS?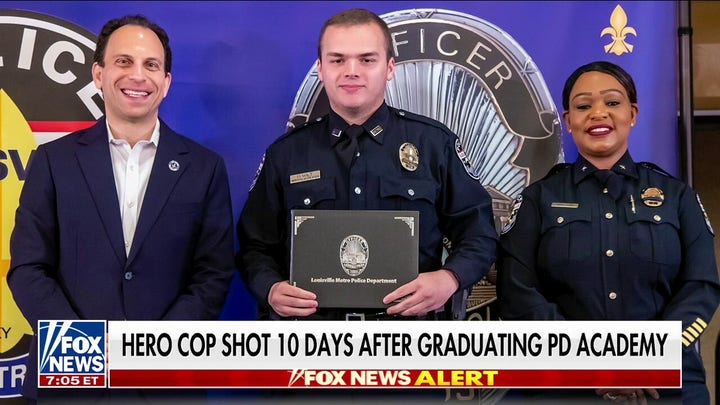 Video
"Let us, the people of Louisville, make our own choices about how we reduce gun violence in our city. Other communities should be able to make the policies that work for them. Let us implement policies that work for us. Please change our state law to let Louisville make its own decisions about reducing the amount of illegal guns on our streets and gun violence that is killing far too many people in mass shootings and individual shootings. In any shootings."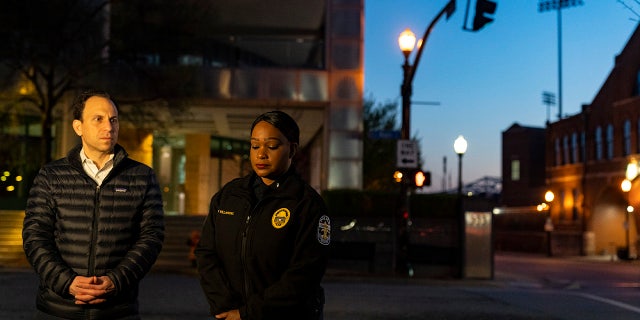 Louisville Mayor Craig Greenberg and Interim Chief of Louisville Metro Police Department Jacquelyn Gwinn-Villaroel stand outside the Old National Bank. The mayor on Tuesday pleaded to end the "gun violence epidemic." (Michael Swensen/Getty Images)
"I don't care about finger-pointing. I don't care about blame. I don't care about politics," the mayor insisted. "I'm only interested in working together with our state legislators to take meaningful action to save lives. To prevent more tragic injuries and more deaths. Arguing is not a strategy. Doing nothing is not a strategy. It's not a solution."
Secondly, Greenberg appealed to the national media. He claimed under current Kentucky law, "the assault rifle that was used to murder five of our neighbors and shoot at rescuing police officers will one day be auctioned off." The mayor said his administration has already taken action to remove the firing pin before turning confiscated guns over to the state.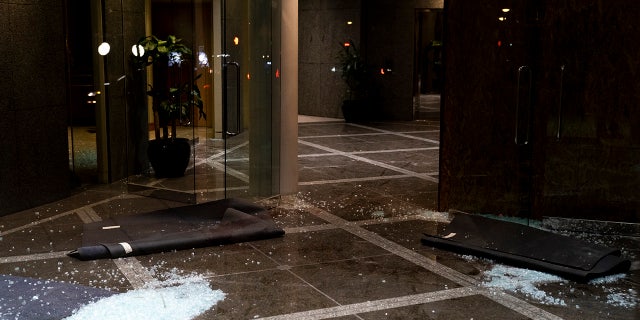 Broken glass is seen on the floor at the Old National Bank in Louisville, Kentucky. Officials demanded action on gun violence after the shooting that killed five. (Michael Swensen/Getty Images)
"That's not enough," he said. "It's time to change this law and let us destroy illegal guns and destroy the guns that have been used to kill our friends and kill our neighbors. I know every member of the state legislature, like everyone else in our state and in our country, is horrified by what we saw yesterday, by what we see in other cities around the country. None of us wants this to happen again. None of us wants this to happen in our neighborhood. But it will keep happening. That's why we have to do more than what we've already done."
CLICK HERE TO GET THE FOX NEWS APP
"Let's change the state laws that would make me a criminal for trying too hard to stop the real evil criminals who are taking other people's lives and who are eager to make a spectacle of mass murder," Greenberg said. "The laws we have now are enabling violence and murder. It's time to change those laws to save lives and keep our people safe."