Very rarely do members of the media candidly admit they got something wrong. It's no easy task, which is why the mea culpa offered by The Young Turks host Ana Kasparian last week stood out.
The progressive personality addressed her viewers to offer a complete reversal on her previous coverage of Rebekah Jones, the ex-Florida health department employee who in 2020 peddled a conspiracy theory that she was being pressured by Gov. Ron DeSantis to bury damning data of COVID cases and deaths in order to push for the state's reopening. The Young Turks host who once took Jones seriously now admits it was a mistake to take her claims at face value.
"The only person that should be held responsible for that is me. I'm the executive producer of the show and I screwed up royally," Kasparian said. "Part of the reason I screwed up is because I had all these biases, of course, against Ron DeSantis. And I don't really feel bad about that… but it becomes a problem that bias blinds you to what the facts of various stories happen to be. And I should have done my due diligence, I failed to do so, and by failing to do so, I feel like I misled the audience into thinking that Rebekah Jones was some sort of hero."
Kasparian wasn't alone and noted "every major publication repeated the same claims" that resulted in Jones winding up as a media darling during the early stages of the COVID pandemic.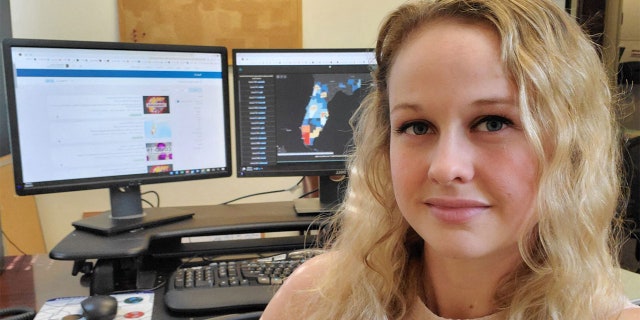 Rebekah Jones claimed in 2020 that she was fired from the Florida health department for not caving to pressure from the administration to manipulate COVID-19 data.  (Reuters)
Reached for comment, Jones said "we fact checked those claims soon after they began circulating." Jones lashed out at Kasparian after the segment and directed Fox News Digital to a timeline on her website that she said backed her claims.
COSMO MOCKED FOR 'PUFFY COVERAGE' OF FLORIDA COVID GRIFTER REBEKAH JONES
Media Research Center director Jorge Bonilla, a Florida resident, borrowed a quote famously uttered by ESPN's Stephen A. Smith when summing up Kasparian's about-face.
"Kasparian recognized that her biases against Gov. Ron DeSantis opened her up to be bamboozled, led astray, run amuck and flat out deceived by Rebekah Jones," Bonilla told Fox News Digital.
"The corporate liberal media can learn a lot from Kasparian's retraction. Will they learn? Probably not, which is why the public continues to show no trust in legacy news outlets," Bonilla said. "It is highly likely that other outlets will continue to push her disinformation in furtherance of anti-DeSantis narratives."
Naples-based radio host Trey Radel, a former GOP congressman, told Fox News Digital more outlets on the left and right should have the same courage as Kasparian to admit fault.
"I give credit to The Young Turks," he said. "I respect that woman. I respect her for coming out and sharing what were falsehoods, correcting her mistakes… What we heard is a slice of sanity that more on the left and right can do."
The legacy media elevated Jones, portraying her as a defiant whistleblower speaking out against a corrupt Republican governor all while turning a blind eye to the brewing nursing home scandal that occurred under then-Democratic New York Gov. Andrew Cuomo, who was similarly heralded as a hero during the pandemic until his 2021 resignation over sexual misconduct allegations.
But a devastating report from National Review's Charles C. W. Cooke poked holes in her story, including the major revelation that she "did not have the ability to edit the raw data" in Florida's COVID database. A separate report from National Review also shed light on Jones' history of arrests and abusive behavior.
A CBS News affiliate in West Palm Beach, Florida, reported in 2021 that Jones' claims were unsupported by evidence, and epidemiologists the outlet spoke to had seen nothing significant about Florida's publicly available COVID numbers.
In May 2022, the Florida Office of Inspector General concluded Jones' claims about the DeSantis administration were "unsubstantiated" and "unfounded."
Additionally, Jones was arrested in January 2021 and charged with one count of illegally accessing state computers and was previously charged in 2019 for stalking an ex-boyfriend. In December 2022, Jones admitted guilt and agreed to pay $20,000 to reimburse investigation costs, perform 150 hours of community service and monthly visits to a mental health counselor in exchange for the charge being dropped within two years, according to the Associated Press.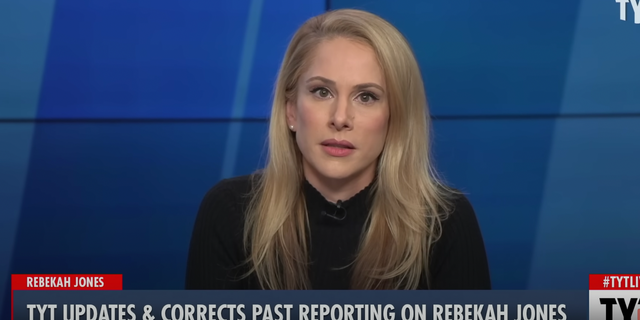 Young Turks host Ana Kasparian corrected past reporting on Rebekah Jones, saying she "screwed up royally."
In addition to the legal woes and credibility issues, an editor for the Gannett-owned Pensacola News Journal recently accused Jones of lifting articles and posting them on her site without permission. Jones denied the accusation to the Washington Free Beacon but didn't have much to say when presented with evidence.
"Jones told the Free Beacon last week that she wasn't behind My Northwest Florida. However, corporate records state she founded it on Nov. 15, 2022," Free Beacon reporter Alana Goodman wrote. "When asked about the corporate records, Jones hung up. She did not call back and didn't respond to a subsequent call and written request for comment."
Unlike Kasparian, none of the news organizations who promoted Jones in the early months of the pandemic corrected the record.
CNN HEAVILY PROMOTED REBEKAH JONES' FAKE CONSPIRACY ACCUSING DESANTIS ADMIN OF ALTERING COVID DATA
Among Jones' biggest boosters was CNN. From May 2020 to December 2020, she made at least nine separate on-air appearances.
No CNN program booked Jones more than "Cuomo Prime Time."
Chris Cuomo, then CNN's star anchor and the brother of the now-former New York governor, landed CNN's first "exclusive" interview with Jones, whom he spoke with on at least five separate occasions, including to push the narrative that she was the victim of a police "raid" in retaliation by the DeSantis administration when in reality she had been accused of accessing and stealing government data.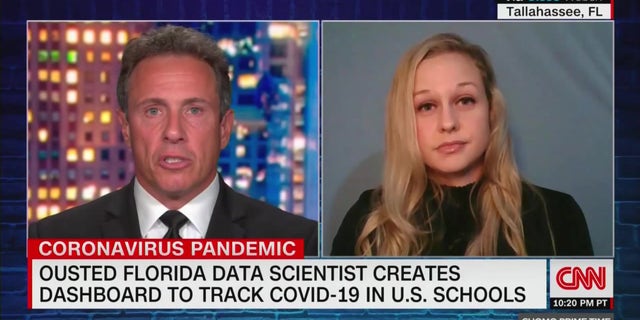 Rebekah Jones was a regular guest on CNN's since-canceled "Cuomo Prime Time." (CNN Screenshot)
MSNBC also obsessed over Jones, inviting her on air nearly a dozen times during the same period and giving coverage on "Morning Joe," "The ReidOut" and "Deadline: White House."
After telling Jones in a fawning interview "the light is shining on you" and encouraging her not to be scared, MSNBC's Ali Velshi declared that Florida's Department of Health is "not an organization you should trust for information."
MIAMI HERALD CHANGES MISLEADING HEADLINE AFTER DEM ACTIVIST REBEKAH JONES' SON ARRESTED FOR THREATS
Jones even received an adoring profile in Cosmopolitan with the March 2021 headline, "Rebekah Jones Tried to Warn Us About COVID-19. Now Her Freedom Is on the Line," that was loaded with glamorous photos. It portrayed Jones as a heroic truth-telller, gushing about how she pursued a science career out of an appetite for "solving problems" and calling her unafraid to "stand up to authority."
Describing Jones' checkered past that includes accusations of cyberstalking one of her students and arrests on charges of trespassing and criminal mischief, Cosmopolitan boasted that "she owns it."
Jones' biggest booster on a local level was, and has been, The Miami Herald. The paper's editorial board celebrated her "whistleblower" status she received as part of the IG probe in May 2021, which ultimately concluded in no proof of lawmaking. The Herald managed to dismiss her legal woes as potentially being "trumped-up charges," pointed to a lack of a cyberstalking conviction, and even took shots at DeSantis while praising Jones for standing her ground.
"In a world that likes a clear, bright line between the heroines and the villains, Jones, like her nemesis DeSantis, is not perfect. In January, she was arrested and charged with allegedly hacking into a state messaging system and encouraging people to 'speak up.' Trumped-up charge? Who knows? She also has a cyberstalking charge in her past, but no convictions," the Miami Herald Editorial Board wrote.
Radel likened the coverage of Jones in Florida to biased coverage against DeSantis' Parental Rights in Education law; both national and state outlets routinely refer to it as the "Don't Say Gay" law or note that critic call it that in their coverage.
"The unfortunate part is that all that most of the public will hear about her is 'whistleblower' and remember her as a whistleblower, not everything else that has come out, and I think that is where the media does itself a disservice because it's so clear what they choose not to cover," he said.
CNN'S JAKE TAPPER RETWEETS CRITICISM OF REBEKAH JONES AFTER PROMOTING HER FAKE CONSPIRACIES ON-AIR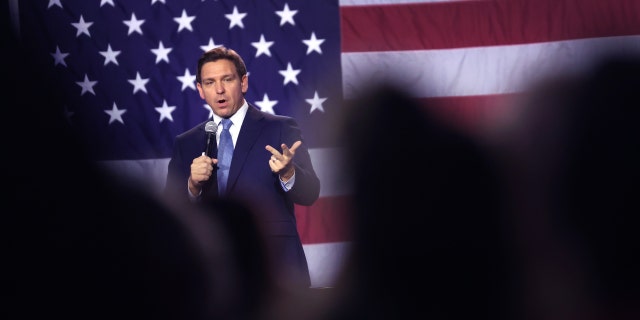 Florida Gov. Ron DeSantis is regularly criticized by failed Democratic congressional candidate Rebekah Jones. ((Photo by Scott Olson/Getty Images))
"Of course, the governor, who seemed to care not one bit about the health and well-being of most Floridians as the pandemic raged, has a soft spot for the environment," the editorial board continued. "Go figure."
To his day, media outlets continue giving her legitimacy. In January, Newsweek published a report suggesting Rep. Matt Gaetz, R-Fla., was having an affair with a staffer solely based on tweets from Jones, who Gaetz had defeated in the 2022 midterms. Last week, Tampa's NBC affiliate WFLA was force to retract its report alleging DeSantis had filed to run for president after citing documents shared by Jones, which were illegitimate.
The Miami Herald also parroted Jones' spin of the arrest of her 13-year-old son alleging he was "arrested over memes" when in reality he had allegedly made threats to shoot up a school. The paper was forced to change its headline after intense backlash.
CLICK HERE TO GET THE FOX NEWS APP
Fox News Digital reached out to CNN, MSNBC and the Miami Herald for comment.
Fox News' David Rutz contributed to this report.