Kevin Bacon is celebrating his 65th birthday.
The actor, who has appeared in some of the biggest films and television shows over the past few decades, first broke into the industry at the age of 17 when he appeared in "National Lampoon's Animal House."
Since then, Bacon has remained a consistent figure in Hollywood and has worked with so many people in the business, a parlor game called "Six Degrees of Kevin Bacon," was created. In the game, an individual chooses an actor and then connects them to another actor, repeating the process until a connection to Bacon is found. It can often be achieved within six connections.
In celebration of Bacon's birthday, here's a look at his life in the industry to his greatest role of all: a father of two and husband to Kyra Sedgwick.
Throughout the movie, Ren falls for the reverend's daughter Ariel, and together they work toward getting the town council to reverse the ban, ultimately achieving their goal in the end.
"I was really resistant to the whole 'Footloose' thing, because I was an idiot. I was young, and I thought, 'Well this is f—ed up, because now I'm not gonna be thought of as a serious actor," he said on "The Howard Stern Show" in 2013. "I wanted to be [Robert] De Niro and [Al] Pacino, I didn't want to be the guy from 'Footloose.'"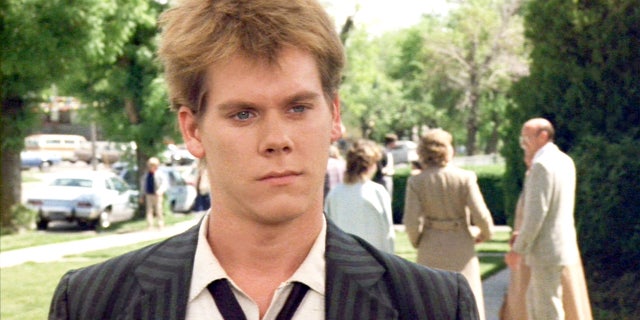 Kevin Bacon was not a big fan of "Footloose" when he was younger, but he has since grown to appreciate the movie. (Photo by CBS via Getty Images)
While he was not a fan of the movie in the past, Bacon seems to have warmed up to the film, telling Willie Geist on Today's "Sunday Sitdown" that he has "come around on 'Footloose'" and called being a part of it "a great gift." One thing Bacon has not come around to: deejays playing the song every time they spot him at a wedding, telling Conan O'Brien he will pay them not to play the song.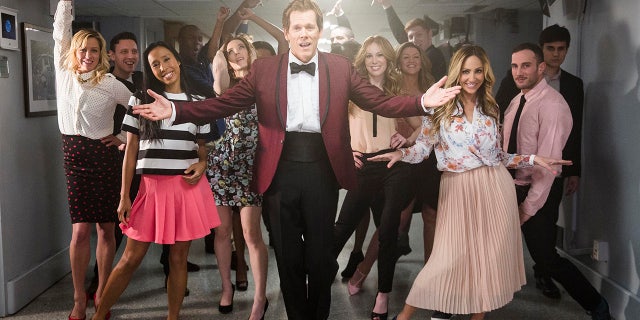 When appearing on "The Tonight Show with Jimmy Fallon" in 2014, Kevin Bacon recreated the "angry warehouse dance" from "Footloose." (Photo by: Lloyd Bishop/NBCU Photo Bank/NBCUniversal via Getty Images via Getty Images)
"My idea was much simpler. I thought it would be fun to do something for 'Footloose,' but I thought that maybe I would be teaching you how to dance, a la 'Let's Hear It For the Boy,'" he explained when he returned to the show in February 2015. "When I got the pitch back from you guys, it was like angry warehouse dance and I thought, 'Oh no, I can't do the angry warehouse dance, that's just too much. It was so elaborate, but your team was so great that I just kind of plugged into it."
He continued, "The night before at about two o'clock in the morning, and I'm standing in my kitchen, and I'm trying to remember some of these moves, and I'd seen the thing that you had put together, and I had to go and rent 'Footloose' on Netflix, because I didn't have the movie," he said before he got up and re-enacted himself trying to remember the dance.
'Apollo 13' and beyond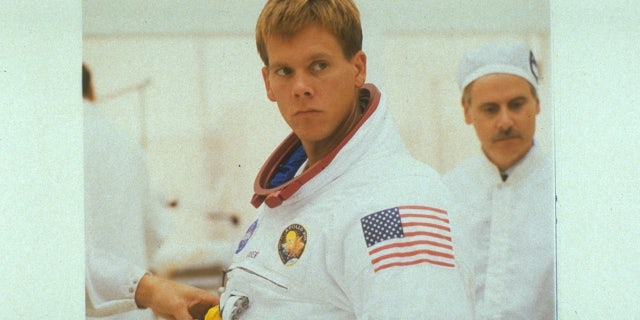 Following his breakthrough role on "Footloose," Kevin Bacon continued to star in both critically-acclaimed films and big blockbuster hit, including "Apollo 13." (Photo by Eric Robert/Sygma/Sygma via Getty Images)
Following his breakthrough role on "Footloose," Bacon continued to star in both critically-acclaimed films and big blockbuster hits. One of his biggest hits after the iconic dance movie was the 1990 horror-science fiction movie, "Tremors," also starring Fred Ward and Michael Gross.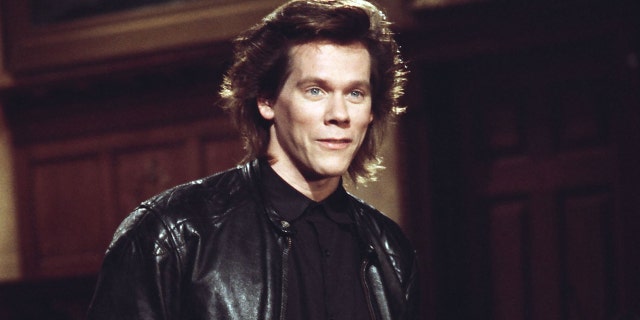 Kevin Bacon starred in "Tremors" in 1990, playing a handyman who works together with his fellow townspeople to save the town from mysterious creatures. Bacon is pictured here hosting "SNL." (Photo by: Raymond Bonar/NBCU Photo Bank)
He went on to say, however, that once he got on set he had a "magical time" working on it, noting he was impressed by all the "practical effects."
"It was all guys in puppets or people with things on their hands, and wires being pulled," Bacon told the outlet, calling the whole process "ingenious."
A few years after "Tremors" was released, Bacon starred in "A Few Good Men," also starring Tom Cruise, Demi Moore and Jack Nicholson. The movie follows the story of two Marines who are charged with the murder of another Marine in Guantánamo Bay, Cuba, and the lawyers who are trying to clear their names. Bacon plays the prosecutor attached to the case, Marine JAG Corps Captain Jack Ross.
"He'd done the scene a lot of times and knocked it out of the park every single time, and then we had to turn the cameras around, and you had to do the coverage of me reacting, Tom reacting to me reacting, Demi reacting, all of us, and he just kept delivering, even though he was off-camera," Bacon said of Nicholson, who portrayed Col. Nathan R. Jessep.
He continued, "I remember, his uniform was getting kind of, his jacket was open at that point, his hair was messed up and stuff…but he just crushed it, and I remember thinking to myself, not only is he a great actor, but that kind of professionalism, that kind of generosity from one actor to the rest of the cast, is something I took to heart."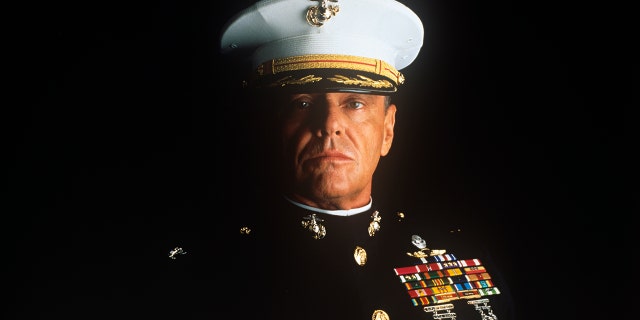 Kevin Bacon admired Jack Nicholson's commitment to his role in "A Few Good Men." (Photo by Mondadori via Getty Images)
In 1995, Bacon starred in two movies which earned him a SAG Award nomination, "Murder in the First" and "Apollo 13," the latter of which earned him a win.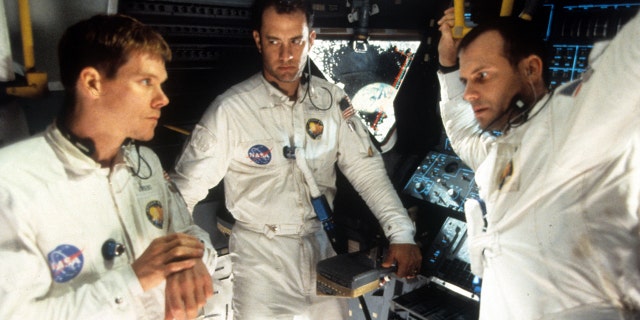 Kevin Bacon explained they practiced being in zero gravity while filming the movie, and he was thrown up on once. (Photo by Universal/Getty Images)
In 2009, Bacon starred in "Taking Chance," a movie for HBO – now MAX – which earned him a Golden Globe and SAG Award win, as well as an Emmy Award nomination.
The movie follows the true story of Lt. Col Michael Strobl, who accompanied the remains of Lance Corporal Chance Phelps — a Marine who was killed in action during the Iraq War — from Dover Air Force Base to his final resting place in Dubois, Wyoming. He attended the funeral and memorial service, later going on to write a 20-page essay about his experience, which the movie is based on.
"There had been a lot of Iraq movies," Bacon told SFGate in March 2010. "Some of them were fantastic, but nobody went to see them. Obviously, I don't want to make something that nobody is going to go see."
Making a return to TV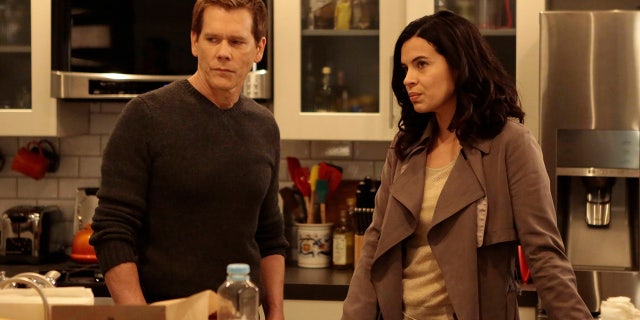 Kevin Bacon starred on the hit FOX drama "The Following" for three seasons from 2013 to 2015. (Photo by FOX Image Collection via Getty Images)
As a young actor, Bacon got his start on TV with the CBS soap opera "Guiding Light," appearing in 11 episodes from 1980 to 1981. After focusing on his movie career for the next three decades, he made his big return to television in the FOX original series, "The Following."
Bacon stars as retired FBI agent Ryan Hardy who comes out of retirement to track down escaped convict Joe Carroll. Hardy had initially caught Carroll, a notorious serial killer who murdered 14 women, and put him behind bars.
The show ran for three seasons from 2013 to 2015, with the actor telling The Hollywood Reporter in July 2012 shortly before the show's release, the script had a lot to do with him taking on the role.
Hahn's character than meets Dick, played by Bacon, one of the sponsors of Sylvère's fellowship, and quickly becomes captivated by him. It leads Hahn's character, Chris, to writing Dick letters detailing her sexual desires. The role ultimately earned Bacon a Golden Globe nomination.
When speaking about his relationship with Hahn while on the Today Show in May 2017, Bacon called Hahn "amazing," and while most people acknowledge her comedic talents, he explained "she also has a tremendous amount of depth" and that he "just felt a great connection with her."
Most recently, Bacon starred in "City on a Hill," a Showtime series which aired for three seasons from 2019 to 2022.
"I think that sometimes I really have to go and seek that character out. I mean, there's always a lot of homework to do, but sometimes they just kind of come to me," he told the outlet in August 2022. "In the case of Jackie, I read it and I saw him, I heard him, I knew what he was going to look like, I knew how he was going to move. It all just kind of came to me. It doesn't always happen that way."
'Immediately in love'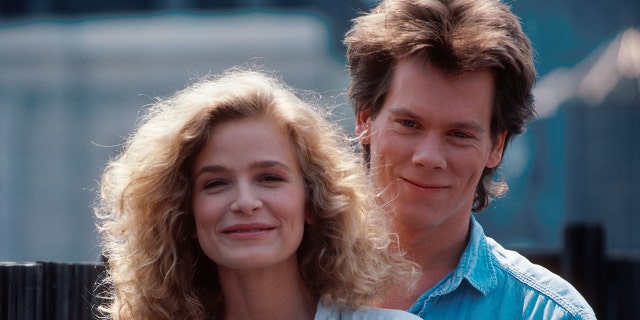 Kevin Bacon married actress Kyra Sedgwick in 1988 after they met when filming "Lemon Sky." (Frank Micelotta/ImageDirect)
A then 29-year-old Bacon met actress Kyra Sedgwick, then 22-years-old, for the first time officially on set of their first movie together, "Lemon Sky," in 1987. However, prior to that meeting, a 12-year-old Sedgwick ran into Bacon in a diner after having just watched him perform in an off-Broadway play.
When they met again all those years later, Bacon explained he "was just immediately in love with her," telling Piers Morgan in 2014 he thought she was "really very beautiful and sexy and aloof," adding "she was just immediately put off by me," something Sedgwick confirmed.
"Our kids are very independent," Bacon added, "My son refused to let me teach him how to ride a bike or how to swim. Those are dangerous things! But both my children were a lot like me when I was a kid — they didn't really come to us for advice or help."
The couple often post about their relationship, sharing videos of them hanging out in their home, or singing with goats in their barn.
 
 

 
 
View this post on Instagram
 

 
 
 

 
 

 
 
 

 
 

 
 

 
 
View this post on Instagram
 

 
 
 

 
 

 
 
 

 
 

Bacon's daughter Sosie has also gotten in on the action, joining her parents when it comes to singing with the goats.
 
 

 
 
View this post on Instagram
 

 
 
 

 
 

 
 
 

 
 

Most recently, Bacon and Sosie, known for her recent role in the movie "Smile," starred in a commercial for Hyundai's new IONIQ 6 electric sedan, which played during Super Bowl LVII.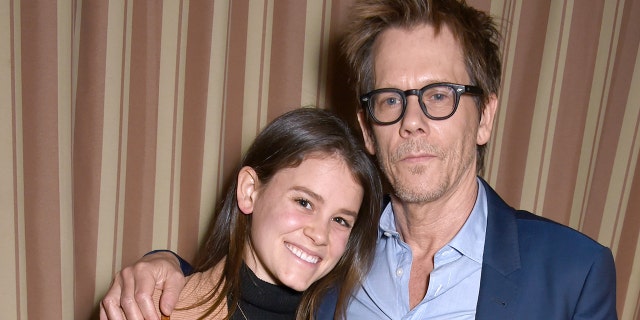 Kevin Bacon and his daughter starred in a Super Bowl commercial with each other promoting Hyundai's new IONIQ 6 electric sedan. (Photo by David M. Benett/Dave Benett/ Getty Images for Eco-Age)
In the commercial, the "13 Reasons Why" actress is annoyed as her dad continues to list all the features the new car comes with, rolling her eyes throughout the commercial as she is shocked "the guy who is internally locked out of his email is going EV."
Fans loved seeing the father-daughter-duo together on screen, with the YouTube comments overflowing with positivity. One commenter wrote, "the daughter steals the show . . . thunder thief level beauty and charm while the father hams it up . . . this may be my new favorite commercial."