The tourist who was seen etching his name on a brick wall of the Colosseum in Rome, Italy has apologized for his actions, a letter shows.
United Kingdom resident Ivan Danailov Dimitrov, 31, was caught defacing the ancient building in a video in June. His apology was published Wednesday by Italian newspaper Il Messaggero.
In a viral video, Dimitrov was seen carving a wall with the name of fiancée, writing "Ivan+Haley 23." He then turns around and smiles.
In the letter, Dimitrov apologizes to both "Italians and the entire world for the damage done to a monument, which is, in fact, heritage of all humanity."
Dimitrov promised that he recognized "seriousness of the deed I committed," in the letter, which was addressed to the mayor of Rome and the Roman prosecutor's office.
ROME'S MAYOR BLASTS 'ABSURD' CLIMATE PROTEST AT TREVI FOUNTAIN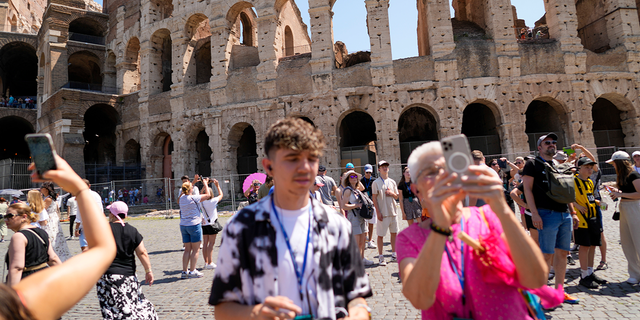 Visitors take photos of the ancient Roman Colosseum, in Rome, Tuesday, June 27, 2023. (AP)
The wall that Dimitrov vandalized was not technically ancient, as it was built in the mid-19th century as part of restoration efforts. But video still caused outrage in Italy, where ancient buildings have been the target of vandalism for years.
The Colosseum, which is a UNESCO World Heritage Site, dates back to 72 AD. It was completed in 80 AD under Roman emperor Titus.
Fox News Digital's Louis Casiano contributed to this report.