A smuggler transporting illegal immigrants led authorities on a high-speed pursuit last Thursday before losing control of the vehicle and flipping over on a dirt road.
Lt. Chris Olivarez of the Texas Department of Public Safety (DPS) said the high-speed chase happened in Hidalgo County, near the southern tip of Texas, along the Mexican border.
TEXAS GRANDMA, GRANDDAUGHTER KILLED IN CRASH INVOLVING HUMAN SMUGGLER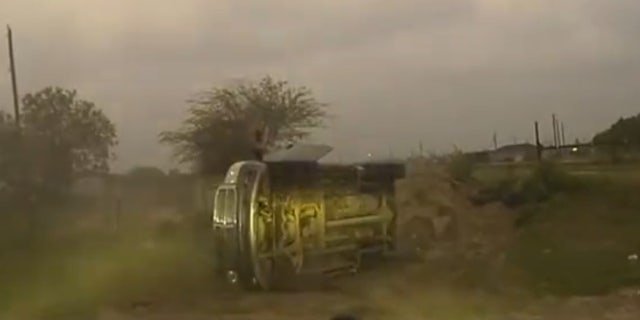 The driver lost control of the vehicle on a dirt road and flipped over.  (Texas DPS)
A video shared by Olivarez on Twitter shows authorities engaged in a high-speed pursuit of the vehicle along Bentsen Palm Road in Hidalgo County. The vehicle can be seen weaving around other vehicles on the road.
At some point, the driver turns onto a dirt road, loses control of the vehicle, and flips over. Multiple illegal immigrants could be seen on the video exiting the vehicle and attempting to run away.
3,000 MIGRANTS IN MEXICO JOIN MASSIVE MARCH DEMANDING END TO DETENTION CENTERS AFTER LAST MONTH'S DEADLY FIRE
Texas DPS arrested the driver, who is from Mission, Texas, and five illegal immigrants – all of whom were from Mexico. Approximately seven evaded arrest as they ran toward the neighborhood, according to Olivarez.
The driver is facing criminal charges for evading arrest and smuggling persons. The five illegal immigrants captured by authorities were referred to U.S. Border Patrol.
Late last month, bodycam and dashcam footage from Texas DPS showed a human smuggler in Zavala County, Texas, attempting to drive his car into a law enforcement officer as he laid out a tire deflation trap.
CLICK HERE TO GET THE FOX NEWS APP
The driver eventually lost control and bailed out of the car before being arrested, according to a statement attached to the video by TXDPS.