Russia has begun delivering nuclear weapons to Belarus, including some that are supposedly three times as powerful as those detonated over Hiroshima and Nagasaki, Belarusian President Alexander Lukashenko announced Wednesday.
The tactical nuclear warheads are the first Russia has moved since opening its invasion of Ukraine last year. The weapons' arrival comes one week after Ukrainian forces began a large scale counteroffensive against Russia. Lukashenko argues the weapons will only serve as a deterrent.
"We have missiles and bombs that we have received from Russia," Lukashenko told Russian and Belarusian state media. "The bombs are three times more powerful than those [dropped on] Hiroshima and Nagasaki."
"We have always been a target," Lukashenko said. "[Western countries] have wanted to tear us to pieces since 2020. No one has so far fought against a nuclear country, a country that has nuclear weapons."
"God forbid I have to make a decision to use those weapons today, but there would be no hesitation if we face an aggression," Lukashenko said of the nuclear weapons on Wednesday.
RUSSIA ALLY DENIED ELECTION TO UN SECURITY COUNCIL IN WAKE OF UKRAINE WAR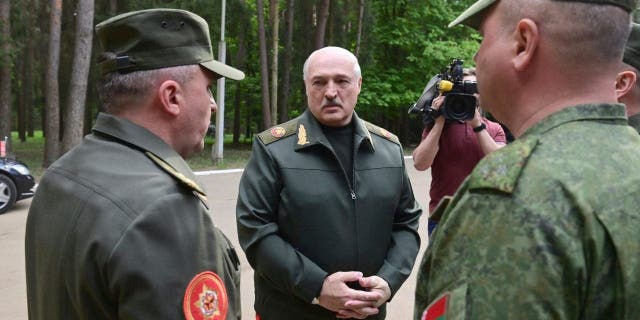 Belarusian President Alexander Lukashenko has threatened to use tactical nuclear weapons if his country faces any "aggression" from NATO. (Belarus' Presidential Press Office via AP)
Lukashenko, 68, has remained an opponent of the West since a divisive re-election in 2020 in which his opposition made allegations of fraud. Widespread protests followed, and he blamed Western countries for fomenting the unrest.