An Australian sailor who said he survived on raw fish and rainwater while adrift at sea for months with his dog has revealed what his first meal will be after returning ashore Tuesday in Mexico.
Timothy Shaddock, 54, disembarked from the Mexican tuna boat María Delia that rescued him and his pup, Bella, in the Pacific Ocean and stepped foot on land in the city of Manzanillo.
When reporters asked what he would like to eat, Shaddock, smiling through his long beard and emaciated appearance, said "tuna sushi" — a sign of the castaway's sense of humor after having survived for months on his disabled catamaran by fishing and eating his catch raw and collecting rainwater to drink.
Shaddock and Bella had set sail from northwest Mexico in late April, he said, planning to sail to French Polynesia. A few weeks into his voyage, a storm struck, disabling his catamaran and leaving him with no electronics and no way to cook.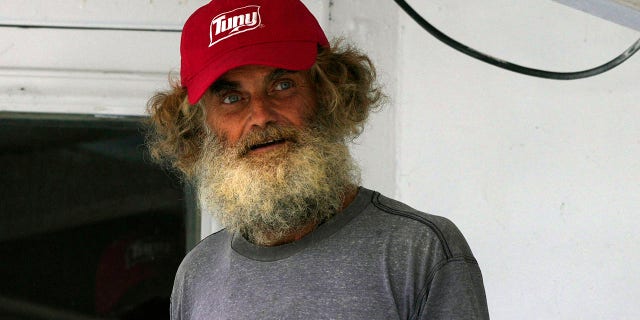 Shaddock and his dog Bella arrived in Manzanillo, Mexico, on Tuesday. (AP Photo/Fernando Llano)
He declined to discuss the storm or how his vessel was damaged, though images of the catamaran taken during his rescue showed there was no sail.
Shaddock said he spent most of his time adrift at sea fixing things on the boat, saying that the "fatigue is the hardest part."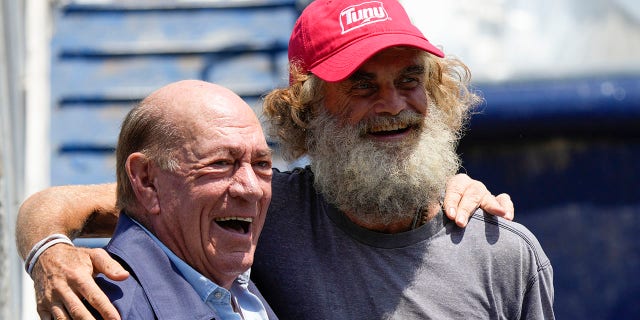 Shaddock poses with Grupo Mar President Antonio Suarez during a welcoming ceremony after being rescued from sea and arriving in Manzanillo, Mexico, on Tuesday. (AP Photo/Fernando Llano)
CALIFORNIA WOMAN KIDNAPPED WHILE WALKING DOG IN MEXICO IS RELEASED BY CAPTORS: FBI
Shaddock planned to return to Australia to spend time with family and friends, acknowledging that he enjoyed the solitude at sea. Still, he said, it might be a while before he returns to the open waters.
The Associated Press contributed to this report.