Driver Akinori Ogata's practice round did not go according to plan Friday.
The Japanese driver's No. 46 Toyota burst into flames as he prepared for the NASCAR Craftsman Truck Series.
As Ogata headed into turn three, the truck started to bellow smoke. A short time later, the truck was engulfed in flames.
Ogata was eventually able to bring the truck to a stop as caution flags waved at the track in North Wilkesboro, North Carolina.
Emergency responders checked on Ogata and helped put out the flames.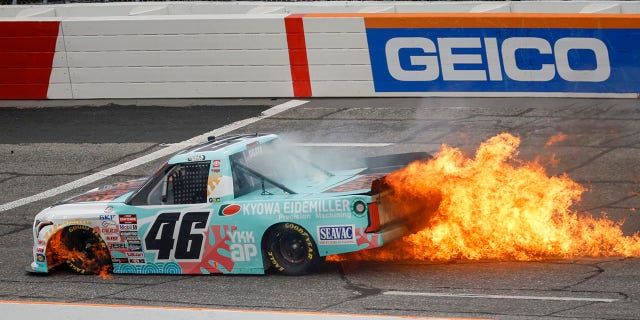 Akinori Ogata, driver of the No. 46 Kyowa-Eidemiller/Asian Pacific Toyota, drives with flames after an on-track incident during practice for the NASCAR Craftsman Truck Series Tyson 250 at North Wilkesboro Speedway May 19, 2023, in North Wilkesboro, N.C.  (Sean Gardner/Getty Images)
Ogata's team, G2G Racing, took to Twitter and wrote that he had been "checked and released from the Infield Care Center."
The damaged truck was later towed off the track.